Article
Pandemic Pivot: Providers turn to telehealth to keep practices running
By Chris Hayhurst | September 11, 2020

For many providers, telehealth services have always seemed an offering better saved for the future. Why bother, they've argued, when patients can be seen in person, and especially with the legal and financial roadblocks in the way?
The difference today: the coronavirus. Since COVID-19 hit the country last winter, physicians have been turning to telehealth in droves. They're doing so because it's often the safer option — a way to engage with patients without having them leave their homes. And critically, they're embracing telehealth because the Centers for Medicare & Medicaid Services is encouraging it. As long as the pandemic remains a national public health emergency, CMS is paying practices the same rate for virtual visits it does for patient care provided in the clinic.
An analysis of patient visits recorded in athenahealth network data finds that providers across all practice specialties have relied on telehealth for at least a portion of patient appointments since the pandemic began. Leading the way — perhaps not surprisingly — have been non-procedure-based specialties like primary care and mental health.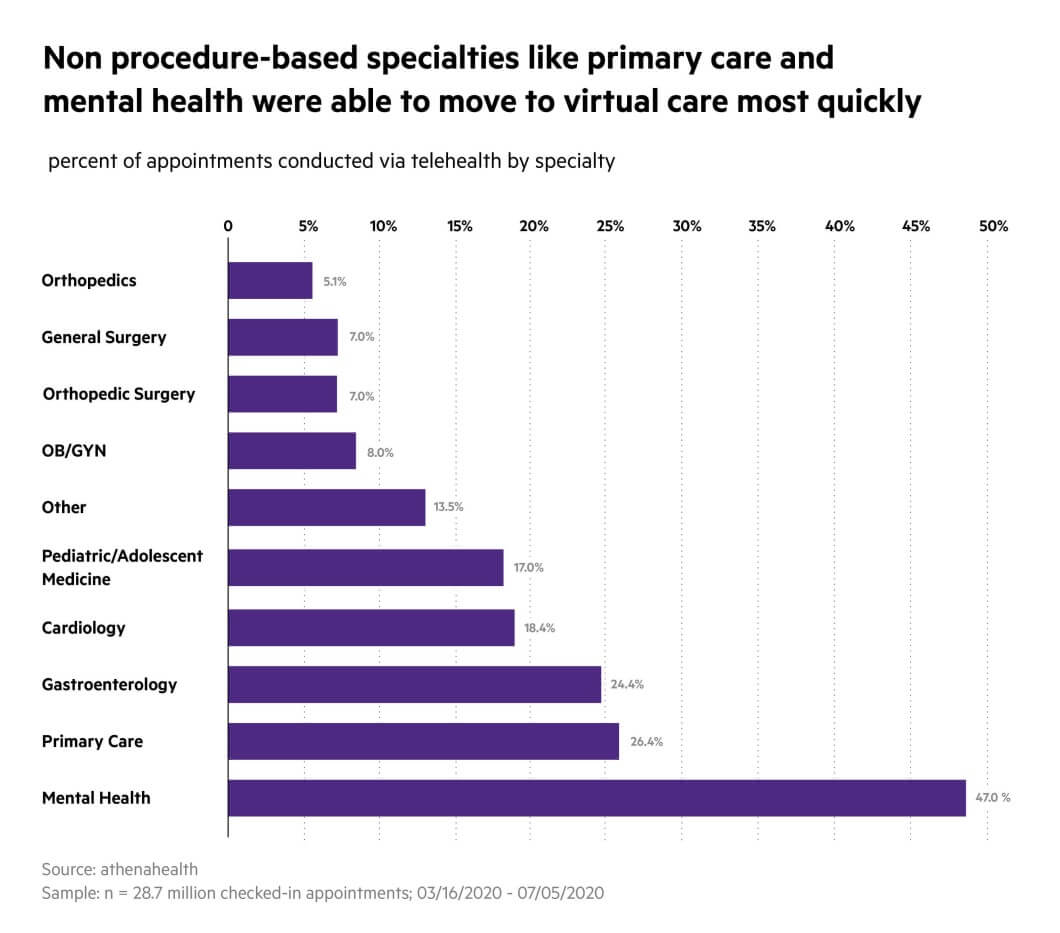 Primary care practices, for example, used telehealth for about 26 percent of all appointments between March 16 and July 5, while mental health practices did the same for 47 percent of patient visits. Further back among the telehealth adopters: specialists in areas like cardiology and orthopedics, which turned to virtual care for about 18 percent and 5 percent of all appointments respectively.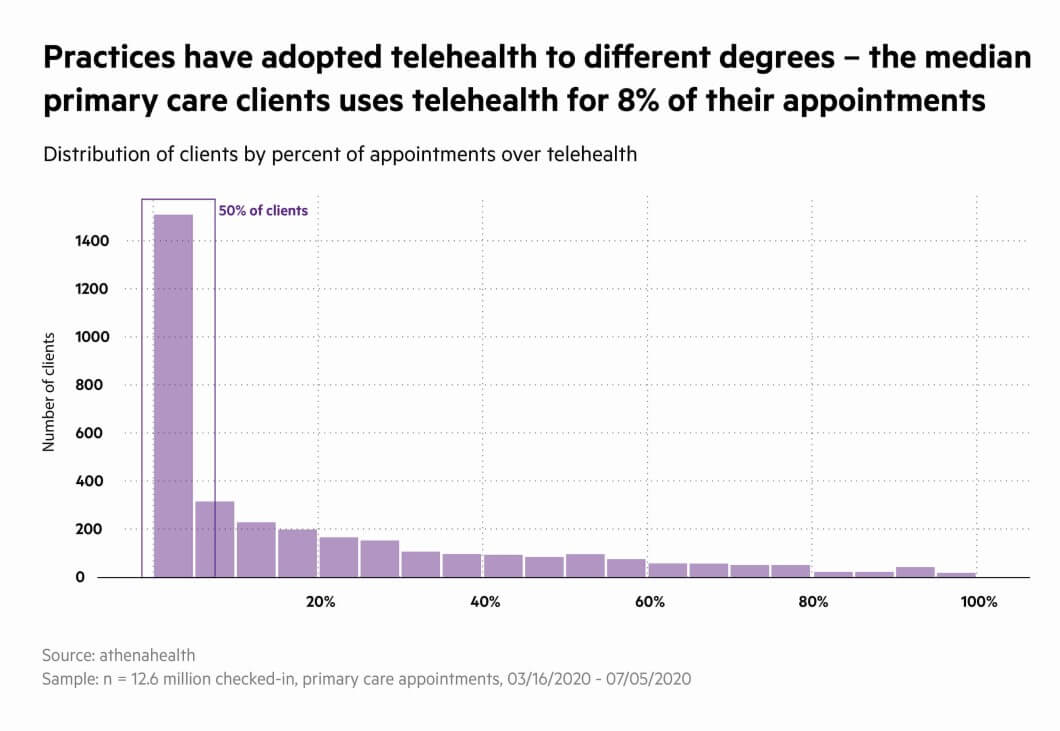 As might be expected, different practices within various specialties have adopted telehealth to different degrees. In primary care, for example, about 25 percent of practices saw no telehealth appointments in primary care during the first four months of the pandemic, while about 1 percent turned to telehealth for more than 9 out of 10 appointments. The median primary care practice, according to athenahealth records, used telehealth for 8 percent of all appointments between March and early July.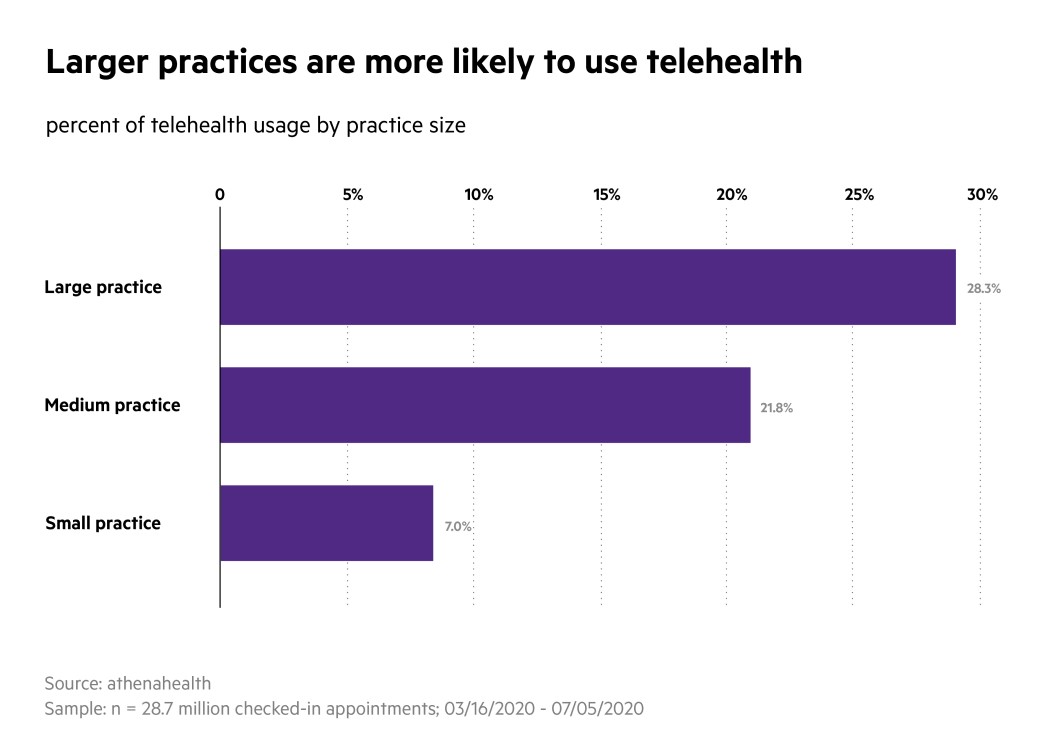 Similarly, the extent to which primary care practices have adopted telehealth has varied according to practice size and location. Over the dates included in the analysis, small practices used telehealth for seven percent of appointments while large practices relied on telehealth for more than 28 percent of their appointments.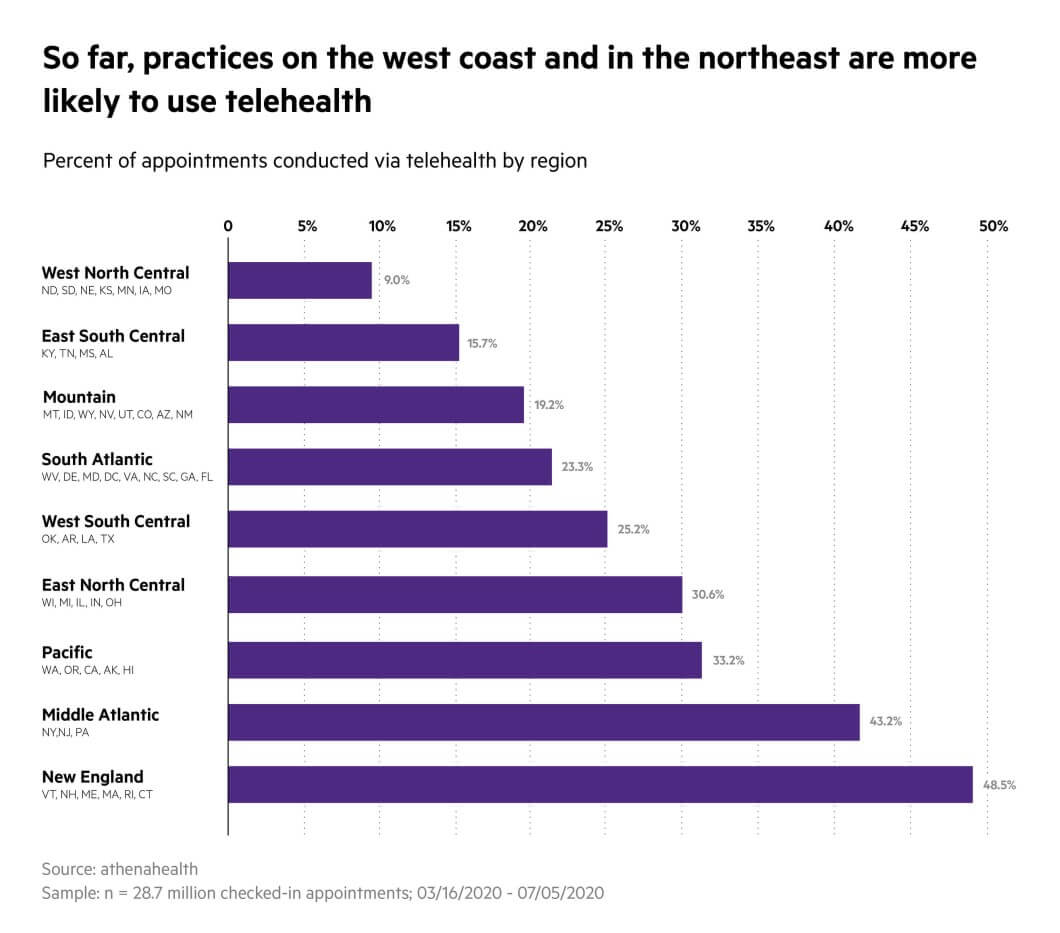 And practices in regions where COVID hit hard early — like the West Coast and the Northeast — have been far more likely to rely on virtual care than those in areas where the virus took longer to arrive. In New England and the Mid-Atlantic, for example, primary care facilities used telehealth for more than 40 percent of all appointments, while practices in the Mountain region (including states like Utah and Wyoming) did so for only around 19 percent of their appointments.
One Perspective: ESD Pediatric Group
Against the backdrop of these regional- and national-level trends, individual practices have had to learn on the fly what it takes to deploy telehealth services successfully. At his organization, notes Jeff Drasnin, MD, FAAP, a pediatrician and president of ESD Pediatric Group in Cincinnati they've taken advantage of the temporary HIPAA-enforcement policy permitting telehealth via any non-public-facing remote communication tool, including applications like FaceTime and Zoom. The practice includes two offices, so they decided to move all well visits to one location and reserve ill visits for the other. But in order for a sick patient to come to the clinic, they must undergo a remote consultation first, he says. "We're using telehealth basically as a screening, and then if we decide they need to be seen, we arrange that and follow up."
Telehealth consults take place on parents' videoconferencing tool of choice while the physician simultaneously navigates the EHR on a separate screen. "The key to telehealth is convenience for the families," says Drasnin, noting that in the context of a pandemic, "families don't want to come in anyway." (One recent report by McKinsey & Company estimated that while 11 percent of consumers used telehealth in 2019, now that COVID has changed their perceptions, 76 percent are interested in telehealth services moving forward. The report also predicted that coronavirus-driven modernization of the U.S. care delivery system could ultimately boost telehealth-related revenues from its current $3 billion to $250 billion annually.)
Since the beginning of the pandemic, ESD has now done over 4,000 telehealth visits and are now using the athenahealth telehealth option so it is fully integrated with their EHR.
Overall, Drasnin says, the parents he's worked with have taken quickly to virtual care, and many are asking if the service will be offered once the current health crisis has passed. "When they know that they've got an option where their child can be cared for, that a good conversation can be had and they've been heard and their concerns have been addressed — it's been amazing."
The coronavirus "forced our hand," leading the practice to roll out telehealth services more quickly than planned, Drasnin adds. No one wanted it to happen this way, but "the silver lining is, [it's] really shown us that there is a place for this."
Want to hear more?
Get insights from athenahealth's open and connected ecosystem delivered right to your inbox.
Sign Up