Article
COVID-19 lab tests, week by week
By Lia Novotny | April 20, 2020

It is hard to comprehend how quickly COVID-19 has spread in the U.S., and how much it is impacting daily life in this country. We are tracking the number of lab tests ordered by clinicians in outpatient settings on the athenahealth network in near real time on our COVID-19 lab test dashboard.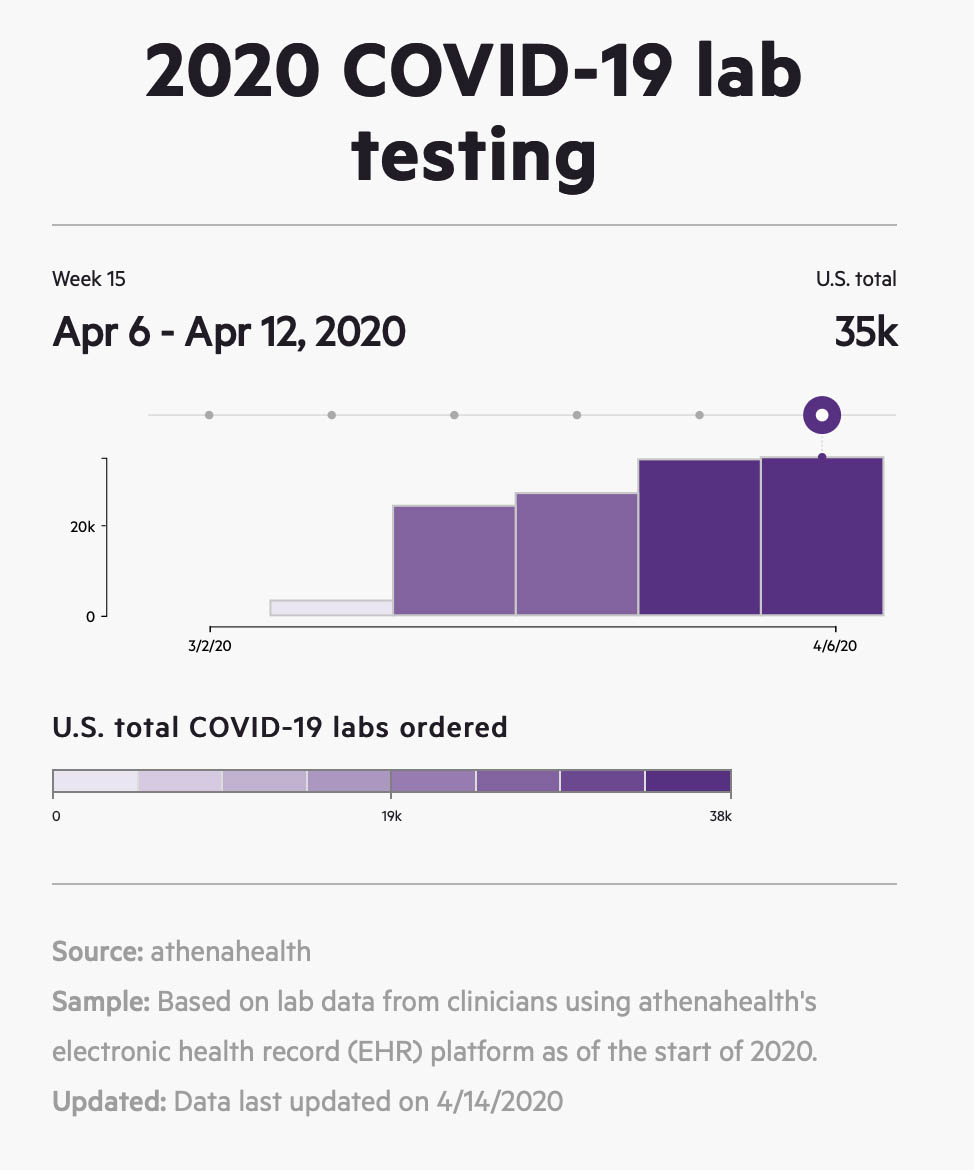 COVID-19 lab tests ordered on our network increased by 7 times between March 9, 2020, when athenahealth practices began testing patients for coronavirus, and March 16, rising from 3,400 nationwide to 24,000. But after that, testing growth slowed to approximately 10 to 15 percent each week. Despite the slow growth in testing overall, the data show varying patterns by state.
"We were encouraged to see that initial jump in testing across our network, but puzzled when it flattened out so quickly," says Bethany Sheridan, Ph.D., senior manager, research and insights at athenahealth. "Outpatient testing just doesn't seem to be ramping up very fast."
Mid-March
In late January 2020, the Centers for Disease Control and Prevention (CDC) confirmed the first known case of COVID-19 in the U.S. Since then, states have been trying to ramp up testing for symptomatic patients and healthcare workers, but by March 15, testing was still not widespread anywhere in the country. On athenahealth's network, which covers approximately 15 percent of all outpatient providers across the US, only 3,400 tests had been performed with many states under 100 tests performed that week.
March 16-22
By the week of March 16-22, athenahealth's network tracked 24,000 COVID-19 tests, a sevenfold increase over the previous week, and some testing hot spots began to emerge. Providers on our network in Florida ordered over 16x more tests that week than the previous one. A few surprises emerged, such as in Alabama where athenahealth's clients went from 31 tests to nearly 3,000 in one week. Sudden spikes may hint at innovative strategies for testing at scale, such as drive-through testing sites, an approach which have now become common.
March 23-29
The week of March 23-29 saw a somewhat surprising increase of only 12.5 percent, with COVID-19 lab tests going from 24,000 to 27,000 nationwide. Some states surpassed that; Massachusetts increased weekly tests ordered by 41 percent, and California by 30 percent. But states like New York and New Jersey, at the epicenter of the U.S. outbreak, stayed largely level. This unexpected pattern may be because more testing has shifted to a hospital setting.
March 30-April 5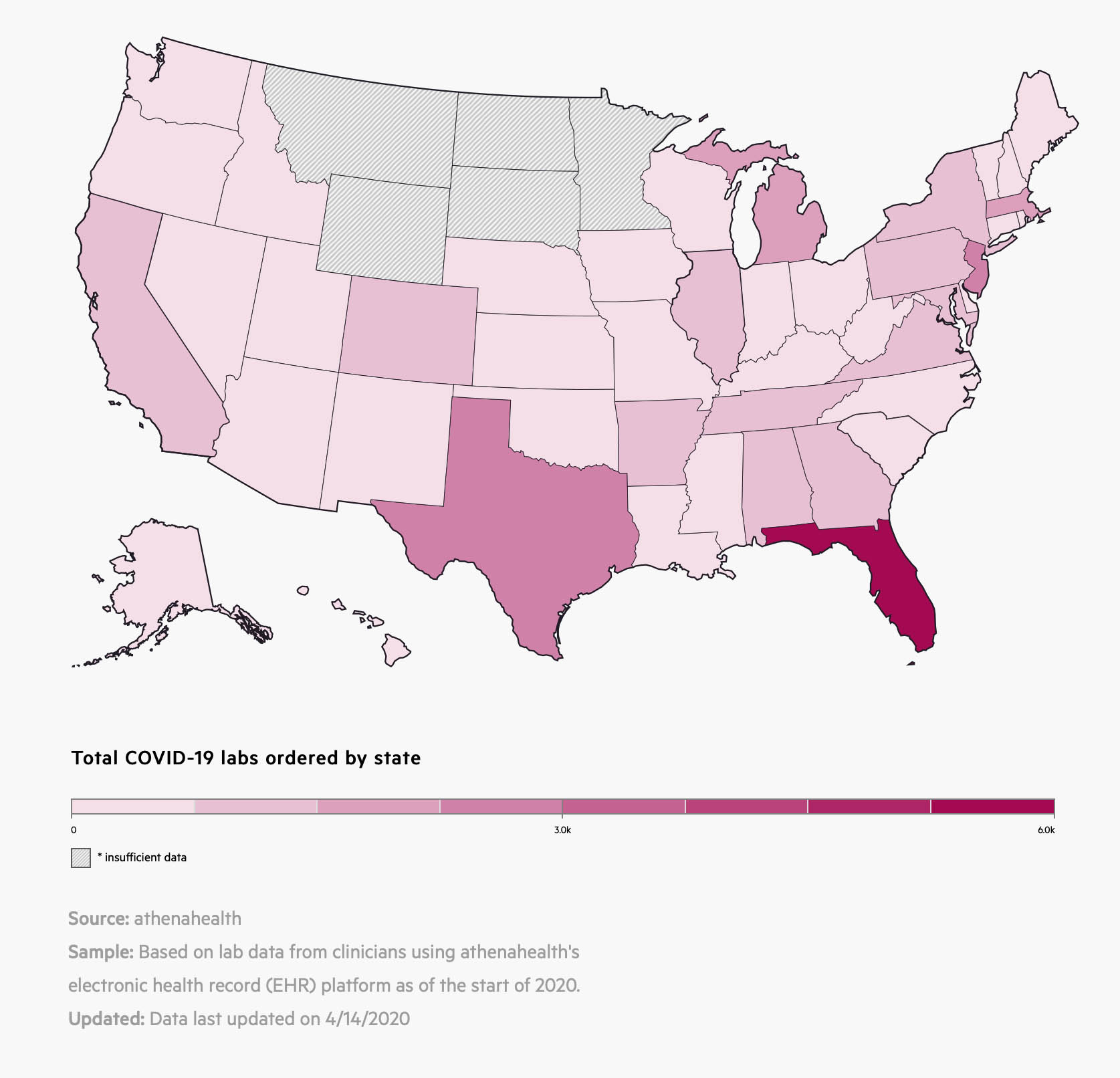 This week saw a bigger shift in the numbers. National testing on athenahealth's network reached 34,000, a 26 percent jump from the previous week. And new states really ramped up their COVID-19 testing. Tests in Florida increased 188 percent week-over-week, coinciding with the state's stay-at-home order announced on April 1.
Illinois providers on athenahealth's network increased testing orders by almost 40 percent and Texas by 17 percent that same week. But, it is notable that New Jersey's rate stayed largely the same, and New York's actually declined by 18 percent compared to the previous week. It remains to be seen if this is because testing is occurring in hospitals.
Emerging trends
These data suggest testing is not yet as widespread as many epidemiologists would like. And rates of testing have not increased as quickly as many public health and elected officials would like. Limited test kit availability, a shortage of necessary ingredients, and lack of personal protective equipment may all be contributing to the still relatively low rates of testing.
"We know from outside reports that testing overall is increasing a lot faster than it is in our network of outpatient clinicians," Sheridan observes. "This hints that health systems may be reserving limited testing supplies for hospitals, potentially making the testing shortage even more extreme in outpatient settings."
And much of the testing is still on the coasts or in states with large urban areas, like Illinois and Michigan. Testing in rural areas remains low in absolute terms, suggesting that those areas struggle with the same challenges in accessing supplies as practices in more urban and suburban areas.
-
Lia Novotny is a contributing editor to athenahealth's Knowledge Hub.
Want to hear more?
Get insights from athenahealth's open and connected ecosystem delivered right to your inbox.
Sign Up