Do erectile dysfunction drug prescriptions peak on Valentine's Day?
By Joanna Weiss | February 14, 2017
Valentine's Day is a time for professions of love, special dates, and extra pressure — so it's reasonable to speculate that it would also be a prime time for erectile dysfunction (ED) drug prescriptions.
But data from the athenahealth network shows that Valentine's Day doesn't mark the zenith of ED prescriptions — or hasn't, at least, in the past three years.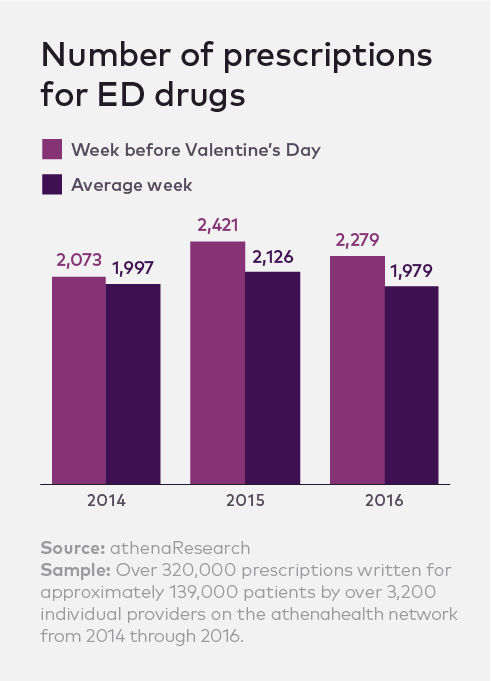 Researchers analyzed 320,000 prescriptions for Viagra, Cialis, and similar drugs, written by more than 3,200 providers between 2014 and 2016 for approximately 139,000 patients.
It turns out, the volume of ED prescriptions was higher than usual the week before Valentine's Day — anywhere from 4 to 15 percent higher than on an average week. But the second week of February fell short of the annual peak.
The timing of that peak week was different every year, but one thing was consistent: It always came in the winter months.
In other words, a bigger predictor of ED use might be ... the chance of a blizzard.
Joanna Weiss is the executive editor of athenaInsight. Data analysis by Anna Zink.