Article
Staffing challenges can magnify burden on those in healthcare administrative roles
By Carley Thornell | November 1, 2021

Practice administrator Brandon Reed knows how fortunate IM365 Health is. After a layoff of an administrative professional, the California internal medicine practice was recently able to hire more strategically. He says finding someone who is skilled on both the administrative and clinical sides is a bit of a "unicorn" — but these days being able to hire anyone at all is also a mythical feat.
Vaccination mandates, an ongoing shortage of trained professionals, and lucrative hiring bonuses luring workers to and fro all contribute to staffing woes just as ambulatory and acute care volumes trend upward. The effects of COVID-19 still ripple throughout the healthcare community, too. Yet after almost two years of toil, administrative staff have a far more positive perspective on U.S. healthcare as a whole, compared with physicians. Coinciding with the Physician Sentiment Index released earlier this year, athenahealth also surveyed administrative staff, with questions related to workload and burnout, technology, and organizational support and culture. A few key themes emerged from the survey, conducted amongst a variety of EHR users.
Giving staff a voice has an impact
More than half of respondents – 53 percent of 139 administrative staff that completed the survey — agreed that healthcare is moving in a positive direction, compared with only 21 percent of physicians. Reed is among those with a rosier outlook, but admits that his perspective in his late 20s is more long-term than short-term. "I'm an optimistic person — and I think that those in my generation and younger can make change in the healthcare system as we know it, when they become higher-ups and have more influence on the decision-making process," he said. "But as far as the current state of healthcare, I'm less hopeful about rapid improvement. There are a lot of issues that are very complex. And that's not even including the pandemic."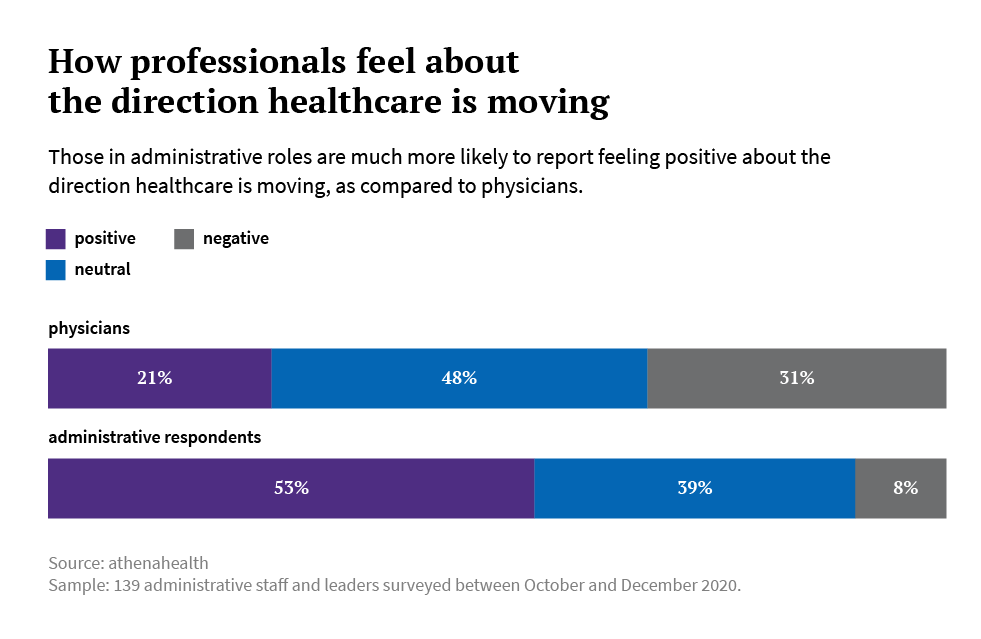 The study found that giving staff autonomy and a voice in decision-making are key strategies for improving administrative staff experience. For Reed, who was responsible for sourcing vaccines for his practice earlier this year, the experience was "extremely rewarding – I mean, when it comes down to it, that's saving lives," he said.
At Fairview Hospital in Massachusetts, Vice President of Operations and Patient Care Doreen Hutchinson says a shared governance model promotes staff engagement. And during a recent EHR conversion, myriad perspectives across her organization were taken into account when it came to configuring the technology and workflows. She believes having users involved in the decisions that affect their day-to-day can go a long way toward ensuring employee satisfaction. But, that's not necessarily the norm. Among respondents who feel burned out at least once a week, almost half (44 percent) report feeling their input makes no difference in how their organization is run. Organizations looking to increase retention rates should take note: 97 percent of respondents who felt like their input made a difference felt "inspired to go above and beyond."
Attitudes toward technology are largely positive
More than three-quarters of respondents (77 percent) say that their use of technology enhances their relationships with patients. Rather than have to ask repetitive questions, electronic records function as "patient encyclopedias" so he can focus encounters appropriately, says Reed.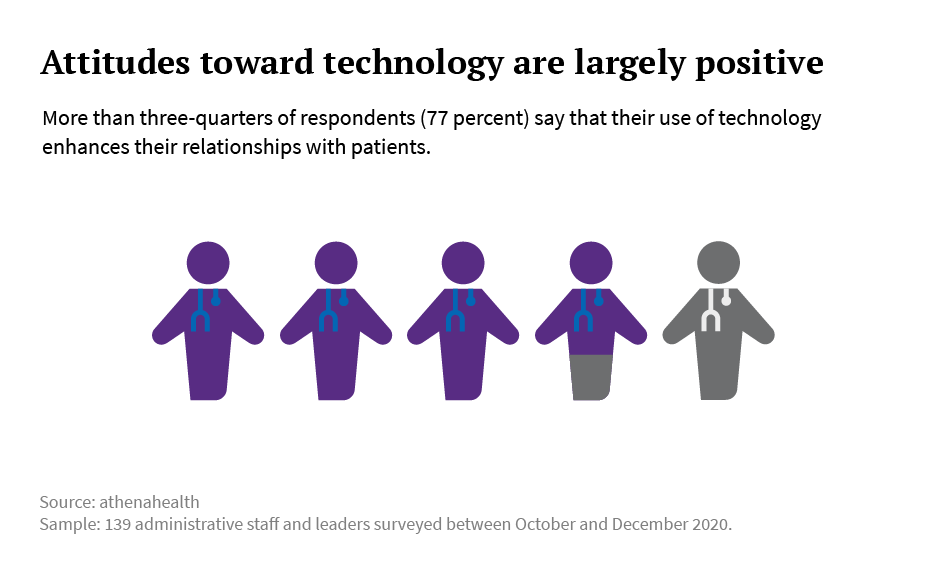 He also said the pandemic was a catalyst for progress in terms of patient engagement modalities, as communication became more seamless due to his practice's enhanced portal usage. "Being able to provide guidance on a recurring regular basis easily and sending securely, that's great," he said. "We've been able to communicate much more easily and frequently with our patients than we had before." The practice will use portal messaging for other major updates moving forward, Reed said.
At other organizations like Baystate Health, leveraging technology has removed some traditional burdens from both staff and patients that ultimately decreases the stress factor for both, says Krista Walker, a practice manager in the cardiovascular services heart and vascular program.
"I think technology is a wonderful thing," she said. "We have leveraged it to, in some ways, improve healthcare." Walker says patients who have ultrasound scans can now have a telephone or video visit to review results, eliminating the need for patients who have painful conditions to have in-person visits. That modality also removes additional burdens for administrative staff that come with having to schedule and coordinate on-site appointments.
Holding appointments virtually also presents an opportunity to ultimately offer the workforce more flexibility to work from home in some instances, Walker said.
Flexibility and support are crucial – especially moving forward
While Baystate is still configuring its staffing flexibility strategies and the future of work, an awareness of people's personal needs goes a long way, says Walker. Within her department, Baystate initially saw several mothers leave the workforce because of the demands of their children's remote learning arrangements. Others were able to transition to working from home — but not without support. "We do a lot of coaching," explained Walker. "There are going to be times you are trying to work and have a kindergartener trying to go to school online and you're going to ask yourself, 'How can I do this?,' and that's when you need to call me for support," said Walker. Those arrangements have led to "increased engagement and incentivization," she says.
For those whose roles are less front-and-center, there needs to be a concerted effort for recognition, says Walker. Baystate reassigned some workers to COVID teams (such as those at testing sites), but most administrative staff are still facing more burnout due to the ongoing stresses of the pandemic. "It's not to the extent of our frontline workers, but there's definitely an impact," she says. "Those in more 'traditional' roles are seeing the frontline workers get bonuses and acknowledgments, and there's sort of a "What about me?' factor. Like, 'I was a silent partner.'"
Saluting workers of every ilk in some manner – including those outside the scope of COVID "healthcare heroes" campaigns – would be well-advised: 89 percent of survey respondents who felt like their organization recognized their commitment to its success intended to stay at their organization for the next three years.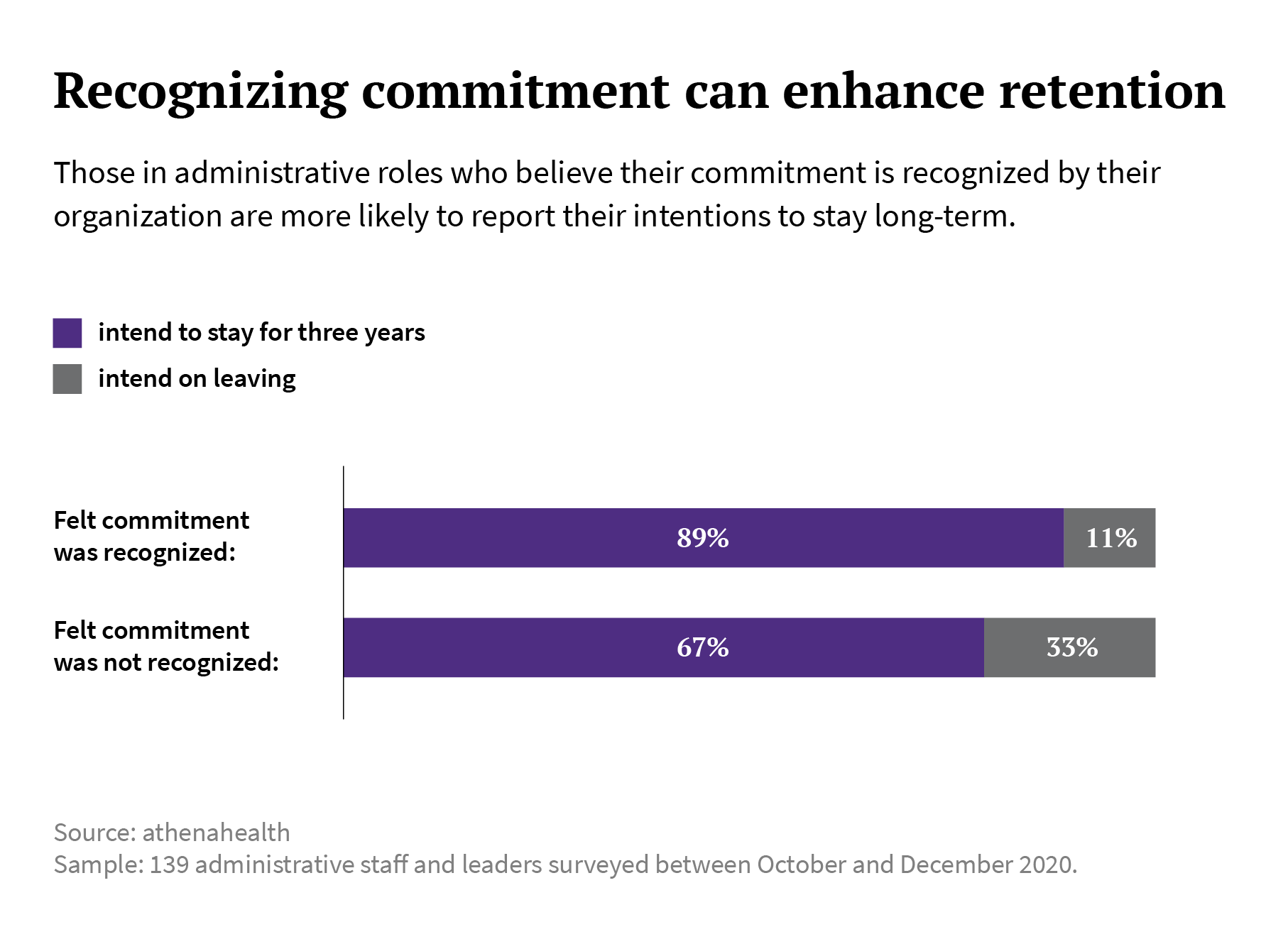 Focusing on retention is just as important as recruiting
Retention is a huge priority for Hutchinson, who's taken strategic measures to prevent staff burnout. Those include still granting workers vacation time (albeit shorter spans) despite being short-staffed.
Overall, she's been fortunate, Hutchinson says. Fairview has had some professionals on staff for more than 40 years, some of whom started as unit secretaries and worked their way up through the ranks. Many stay beyond traditional retirement age. A recent dearth in nursing staff is due mostly to retirements versus burnout, she says. (Some reports project that over a million new registered nurses will be needed by 2030 to address the current U.S. shortage.)
Fairview has a longitudinal approach when it comes to staffing, and Hutchinson recommends others prioritize similarly in "investing" in onboarding and training. The Critical Access Hospital also hires nursing residents, who can be hired in Massachusetts directly from school as unlicensed college graduates. The residents get experience in every clinical area, mentoring from long-term staff, and form their own "support group" — which can yield long-term professional friendships. Positive relationships within a workplace can also support retention, says Walker. Despite the stress and challenges posed by the pandemic especially, employees say, "I can't leave these people. You don't know what we've been through," relays Walker.
Culture and camaraderie are key
A little ice cream and complimentary lunch can go a long way, says Hutchinson. Fairview hosted a "pandemic picnic" this fall for all three shifts to recognize the dedication of every hospital employee.
Putting the finger on the fluctuating pulse of workplace "culture" — that nebulous definition of the character and personality of an organization – is one of the first steps to recognizing what needs to change, Hutchinson said. She's always meeting one-on-one and in huddles with employees to get their input on technology hiccups, or even figure out that there needs to be a better system for planning meal breaks.
Ultimately, that ongoing dialogue has yielded a dedication to Fairview's mission. "The culture, our model of care, was chosen by the staff. We call it 'relationship-based care,'" she said. "We take care of family. We take care of friends. We take care of neighbors. But for the most part, we take care of each other."