Article
3-minute case study: How to ask patients to pay
By Gale Pryor | April 17, 2017

Researchers have identified top performers on key financial and clinical metrics across the athenahealth network — and the innovations that drive their success. Here's a snapshot of one tactic on the road to lower cost, higher value care.
The problem
Patient obligations are rising across the board, but especially for surgery: According to athenahealth data, patients pay 13 percent more out of pocket for surgeries now than they did in 2013. For the staff of a healthcare organization such as Georgia Hand Shoulder Elbow, a leading upper-extremity orthopedic group in Atlanta, that translates to a precarious balancing act: Warmly welcoming patients while also collecting payments from them.
The solution
Practice leaders shifted patient payment collections from the front desk to surgery schedulers. These staff members already serve as the group's air traffic control, tracking patients from pre-surgical testing through post-op, managing operating room capacity, and pulling from waitlists to fill cancellations. They're multitasking, problem-solving, calm-under-pressure communicators.
And, according to CEO Lynn Wolff, those are precisely the skills needed to ask for payments.
So Wolff designed a scheduling and collection protocol around GHSE's surgery schedulers. When a physician recommends a patient for surgery, office staff guide the patient to a sub-waiting area. Simultaneously, the scheduler reviews the planned procedure, the patient's insurance coverage and deductible, and the portion of the deductible that the patient has already met. She then creates a spreadsheet of allowable costs for the relevant billing codes. Then, the patient joins the scheduler to review the form.
"It's a straightforward conversation," says Wolff. "The scheduler says, 'This is the procedure we plan to do, this is our charge, this is what your insurer will pay, and this is your deductible amount. And we need to collect that before we schedule the surgery.'"
The outcome
The clarity of their presentation is appreciated by patients, even when they're taken aback by the cost, Wolff says.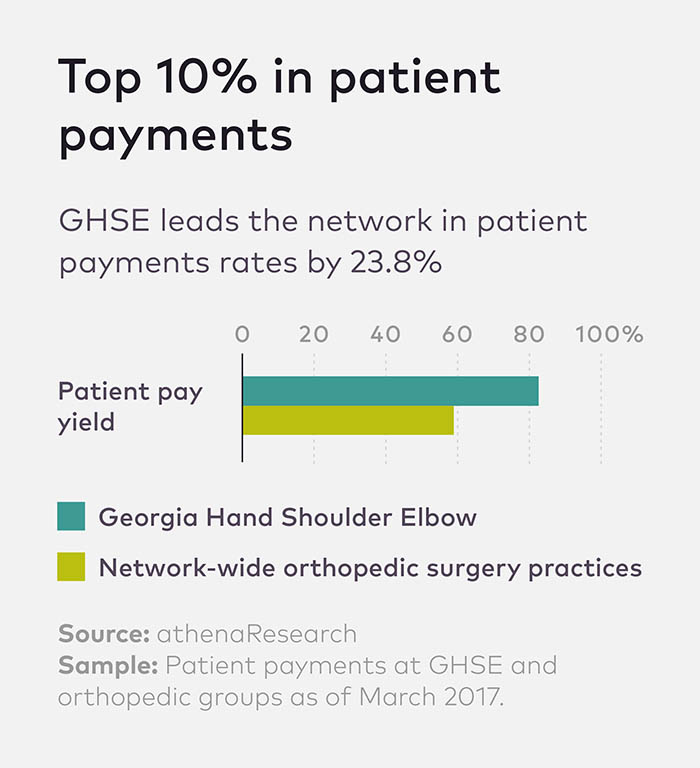 "If patients know their financial responsibility upfront," agrees Owen Dahl, an independent practice management consultant, "they can make necessary arrangements. They know they are being cared for by a well-run, well-organized practice. That eases their mind and makes the whole process of care easier."
And thanks in part to this protocol, Georgia Hand Shoulder Elbow has a patient pay yield in the top 10 percent of healthcare organizations across the athenahealth network.
Image credit: Getty Images
Want to hear more?
Get insights from athenahealth's open and connected ecosystem delivered right to your inbox.
Sign Up