Article
Understanding high-risk patients and how they access care
By Lia Novotny | September 8, 2020

In America, 10 percent of patients account for 68 percent of healthcare costs in a given year. These tend to be patients with at least one complex chronic condition. Examining the highest-risk patients within the healthcare system reveals a number of notable differences across age, racial/ethnic, and socioeconomic groups. To improve quality and reduce costs, it is imperative to understand who these high-risk patients are, and how they access — or don't access — care.
High-risk patients are predominantly older
Predictably, the older patients get, the more likely they are to develop complex chronic conditions.
By the time patients reach midlife, almost half have one or more chronic conditions. That percentage of patients having one or more chronic conditions jumps to 75 percent of those needing care who are in their 70's.
Across all ages, poorer patients and patients of color are more likely to be high risk
It is alarming but not surprising that we see significant disparities in the percentage of patients with one or more chronic conditions when broken down by race/ethnicity and socioeconomic status.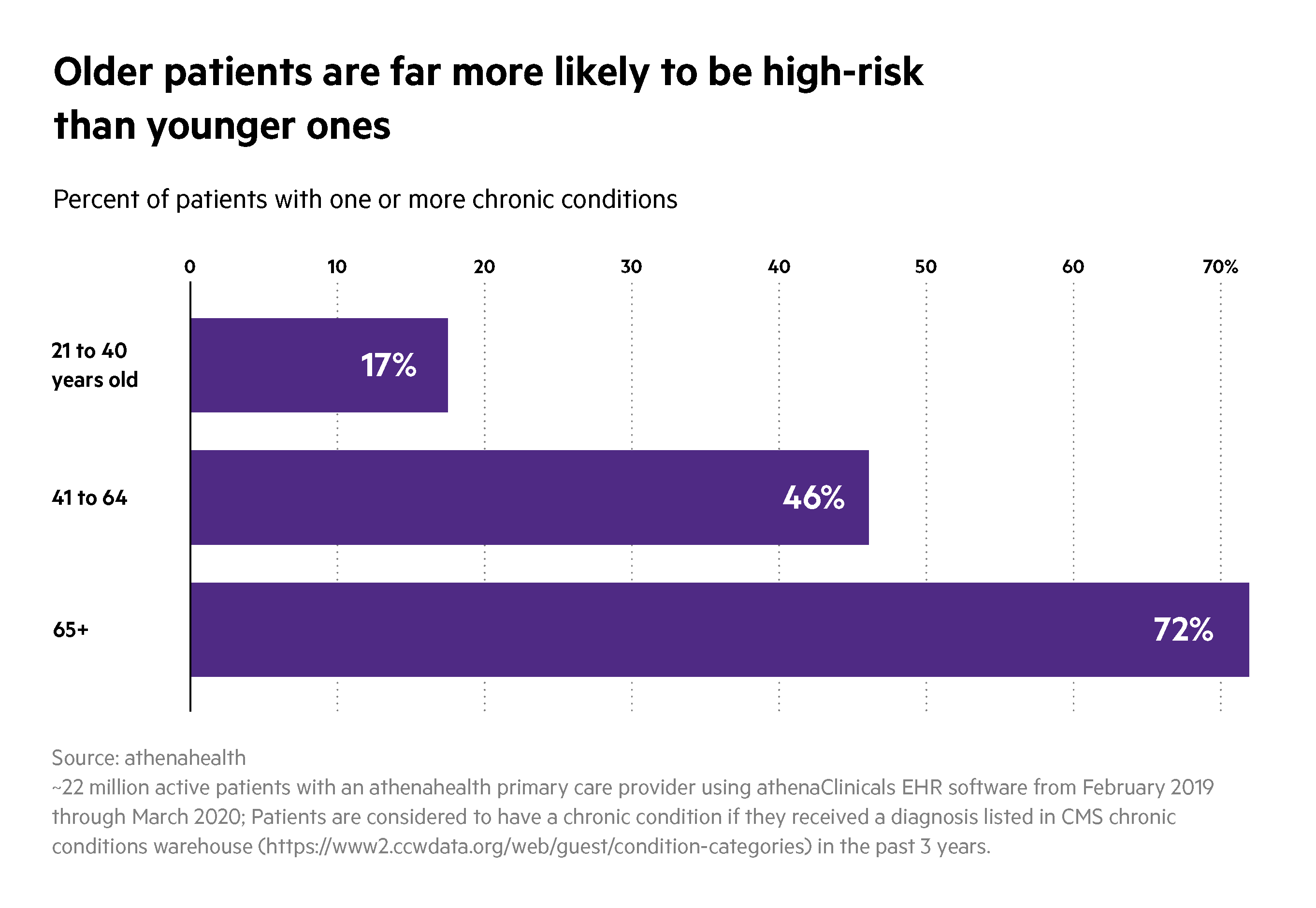 Beginning at a very early age, even after adjusting for socioeconomic status, Black and Hispanic patients struggle significantly more with complex chronic conditions like diabetes, hypertension, and depression. Among patients between 21 and 40, Black patients are 22 percent more likely to be high-risk than their white counterparts. The gap remains high for patients in midlife, with Black patients 17 percent more likely to be high-risk and Hispanic patients 4 percent more likely. The gap is somewhat narrower among patients aged 65 and older.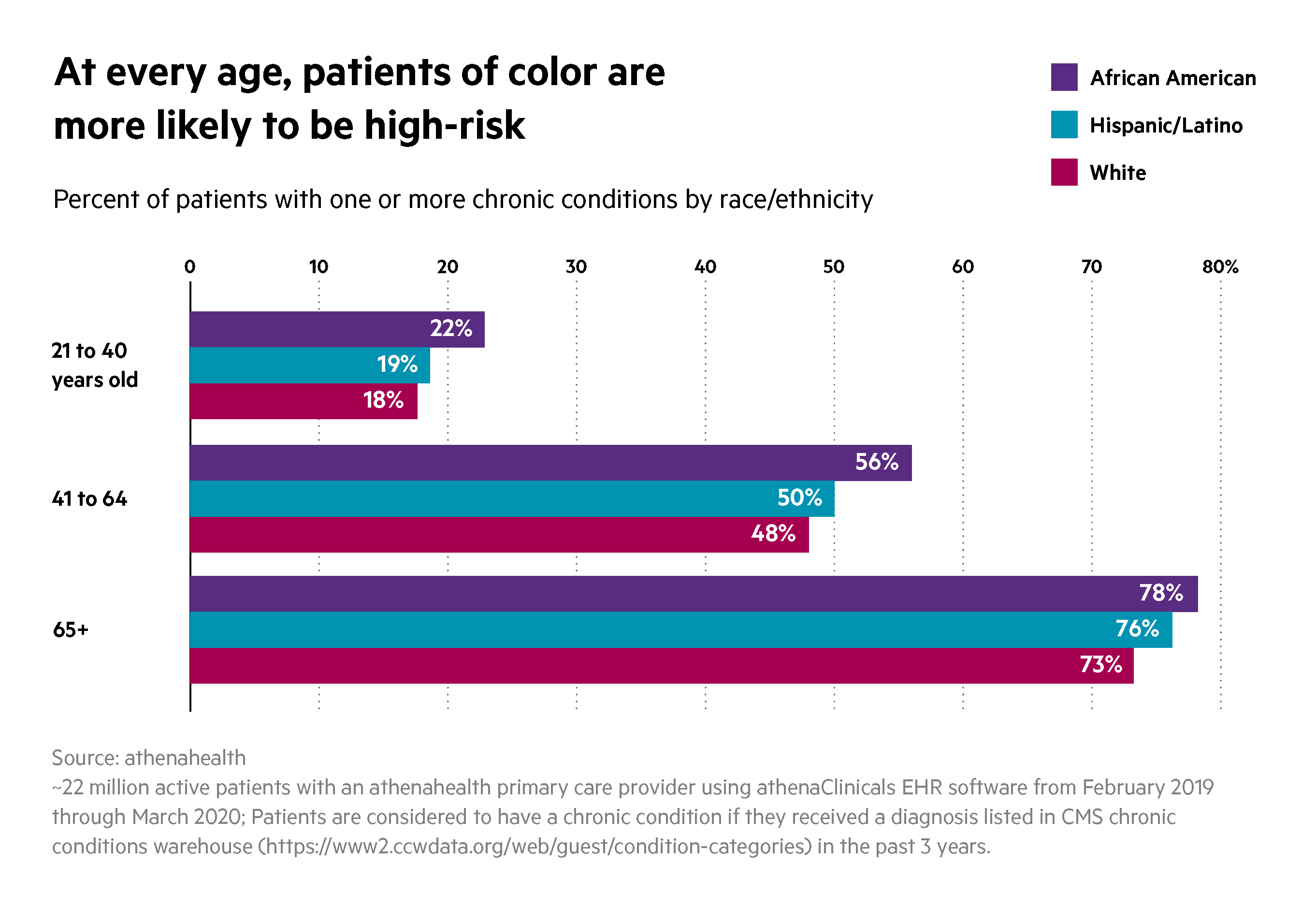 Interestingly, these disparities hold even when socioeconomic status is taken out of the equation. While the differences vary by age, Black patients in low-income zip codes are 1.1 - 1.4 times as likely to have a chronic condition than white patients in high-income zip codes.
Even at the highest income level, Black patients in midlife are 21 percent more likely to have one or more chronic conditions than their white counterparts. The data show clearly that, although socioeconomic status is clearly a factor in health disparities, race and ethnicity play an independent role.
High-risk patients face logistical challenges to receiving care
Patients with one or more chronic conditions, especially those between 21 and 40, are more likely to miss scheduled appointments, which is potentially detrimental to patients' health and financially damaging to the practice.
"The data make it clear that high-risk patients face some unique barriers to getting care and following provider recommendations," says Bethany Sheridan, Ph.D., senior manager, research and insights at athenahealth. "Any efforts to improve care for high-risk patients need to take that into account."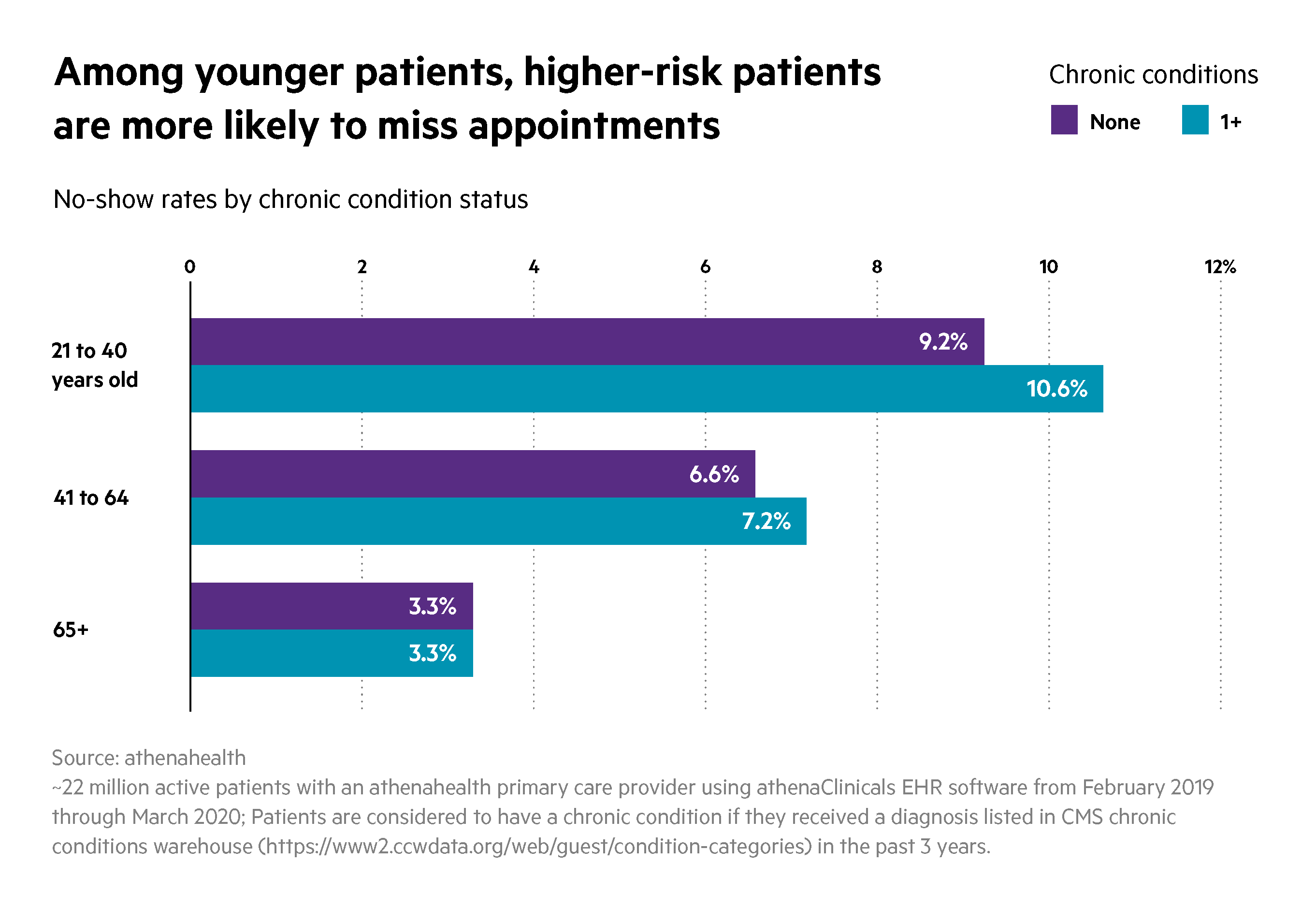 Among patients aged 21 to 40, high-risk patients are 15% percent more likely to miss appointments than low-risk patients, and those between 41 and 64 are 9 percent more likely to not show up.
These are typically the most complex patients for whom continuity of care is the most critical. To improve chronic care management, it will be crucial to understand what is keeping these very sick patients from making it into the practice. Is it mobility or transportation issues? Are these exacerbated by their illness? Is it simply feeling unwell? Might telehealth or home health care be better options? It would behoove practices to reach out to high-risk patients who aren't showing up and ask these kinds of questions.
High-risk patients also tend to have the highest medical bills, and while they pay more in monetary terms, they end up paying a lower percentage of the total. Among the youngest patients, those without any chronic conditions owe an average of $33 per year and pay 82%, while high-risk patients owe an average of $73 per year and pay only 78%. And it has been shown that the higher the patient's balance, the less likely they are to return for care, further jeopardizing the health of these vulnerable patients.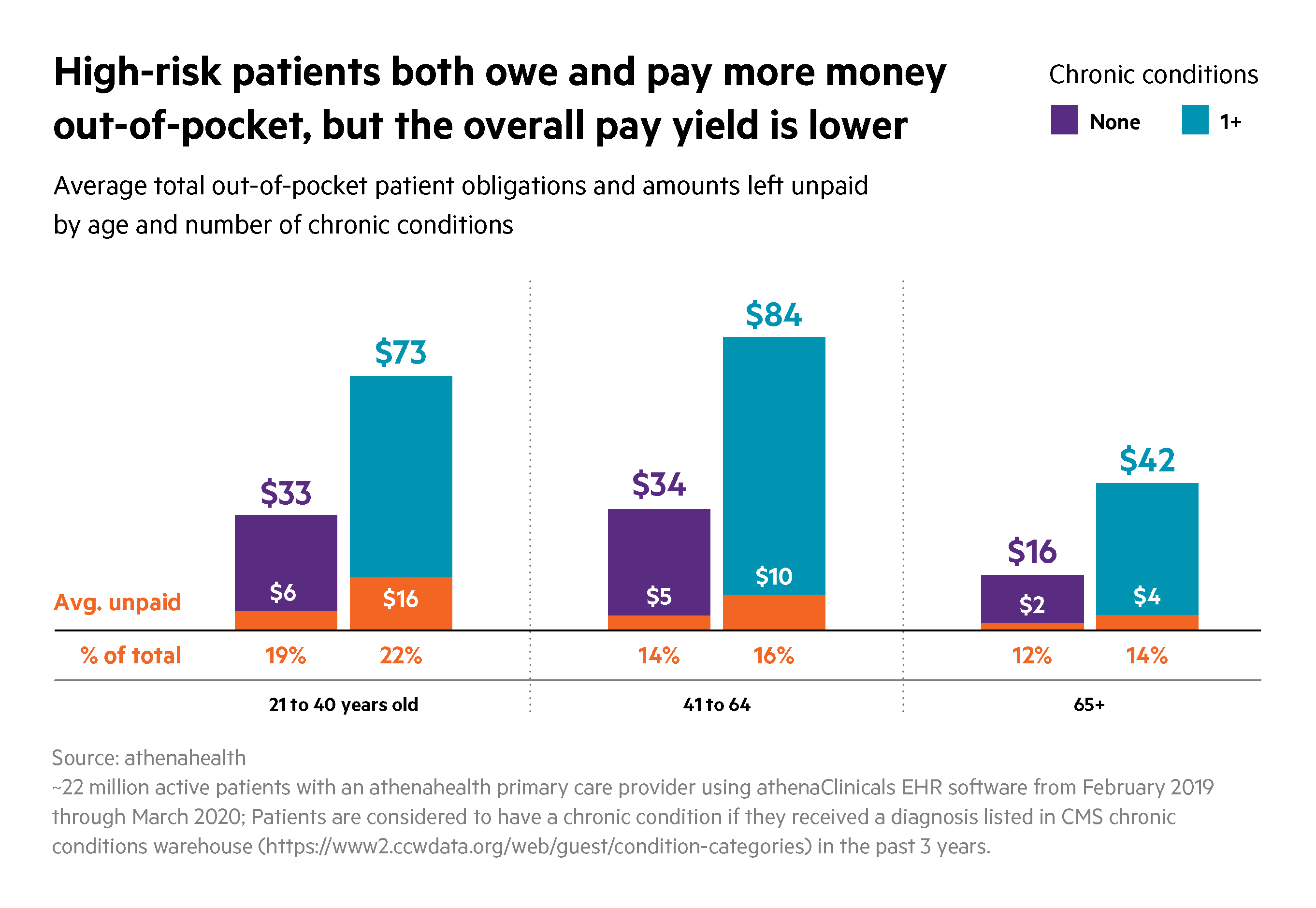 COVID hit high-risk patients hard
It has become abundantly clear that the impact of the COVID-19 pandemic is not evenly distributed across the American population. Within each age group, patients with a chronic condition are around 2 times as likely to be confirmed with COVID-19 as those with no chronic conditions.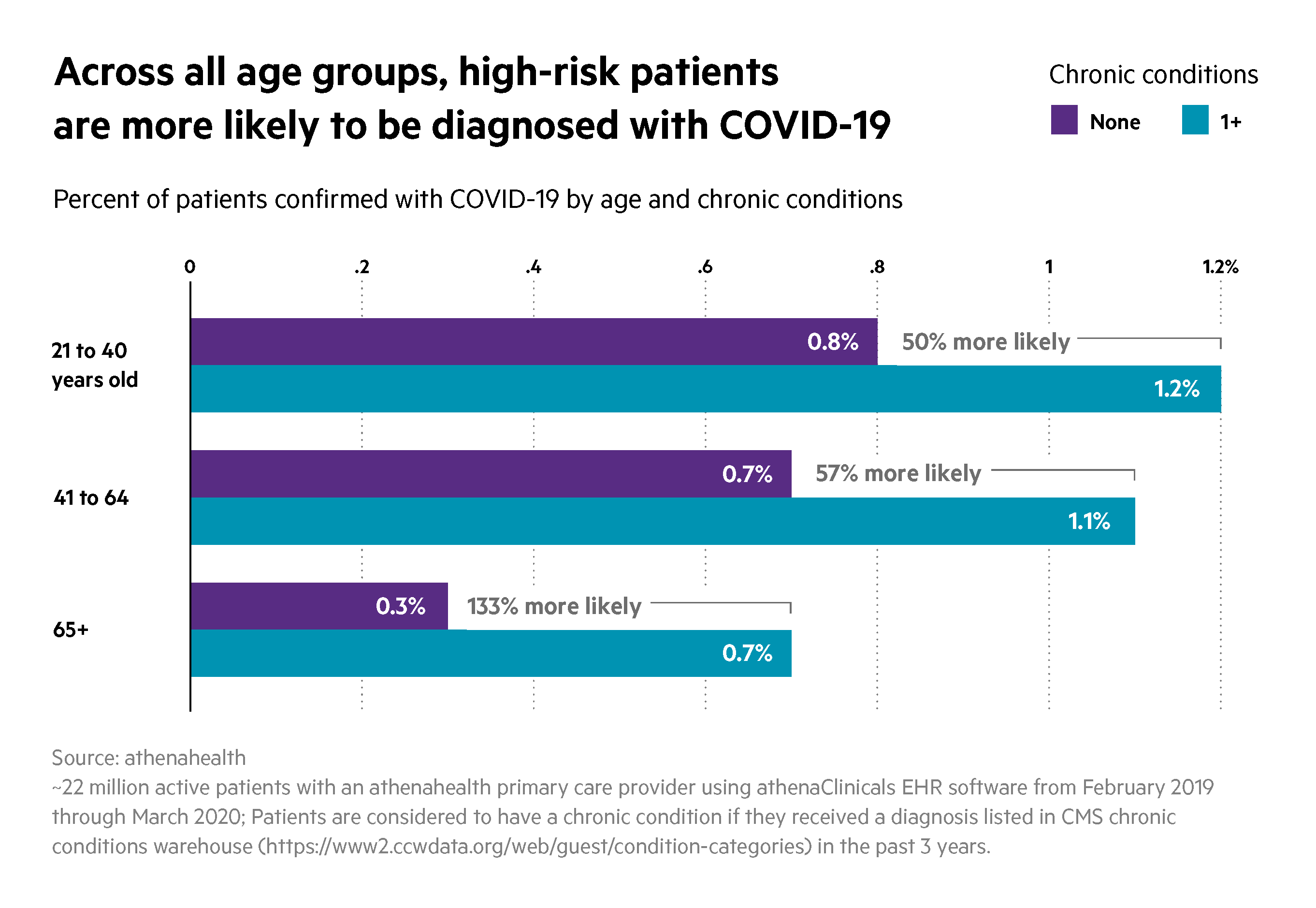 It was already known that these patients are at greater risk for severe illness when they contract COVID-19, so the fact that they are also more likely to get it in the first place is a double whammy.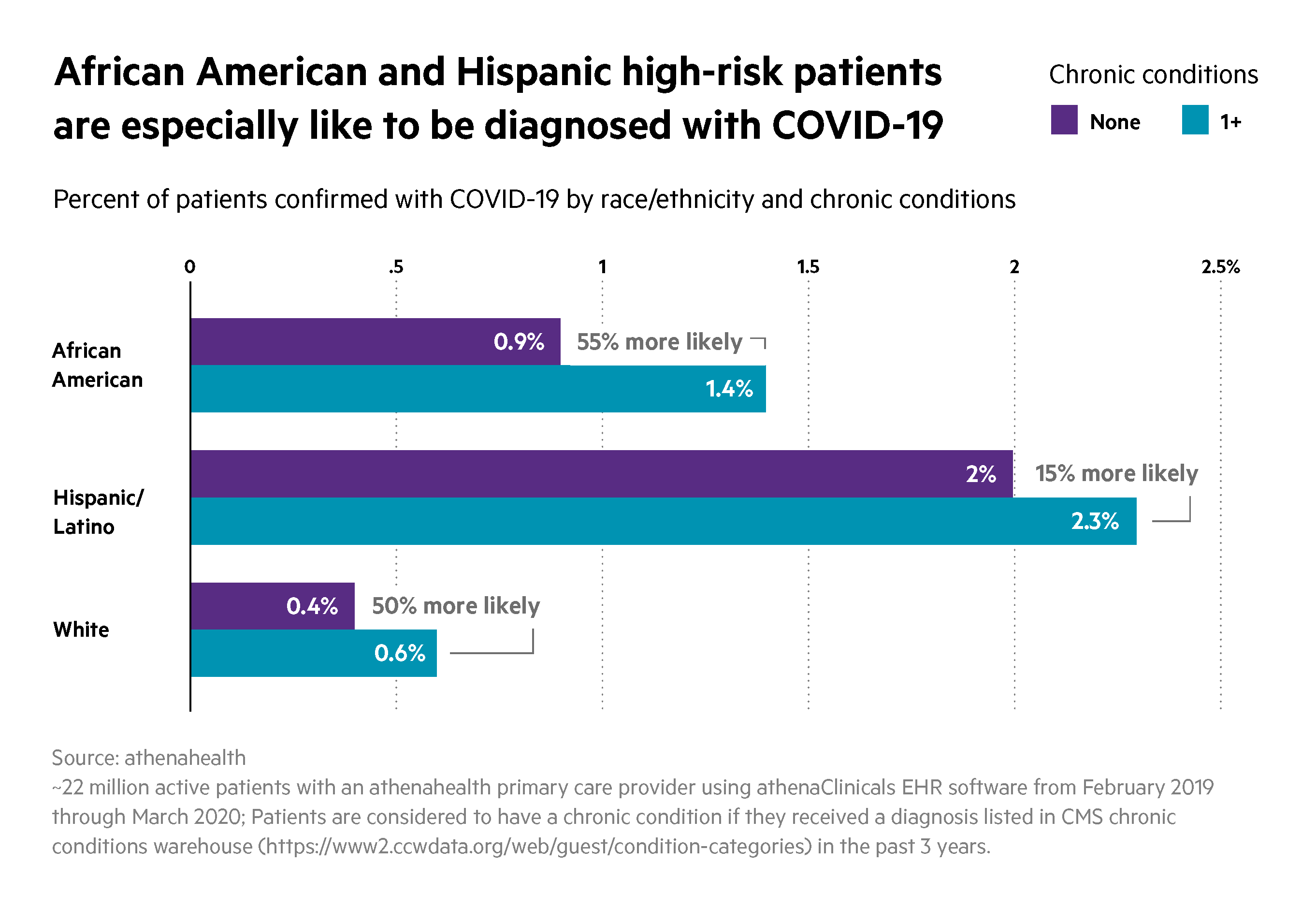 Black, and Hispanic high-risk patients are especially likely to be diagnosed with COVID. Within each of these groups, high-risk patients are 2-3 times more likely to be diagnosed with COVID than those with no chronic conditions.
High-risk Hispanic patients are diagnosed at nearly 6 times the rate of low-risk white patients.
But, high-risk patients are more likely to be connected to their providers
The good news is that high-risk patients, perhaps because they are more focused on their healthcare or because providers have made big improvements in outreach, are more likely to take advantage of tech-enabled connections with their providers, such as email, portal messaging, and text alerts.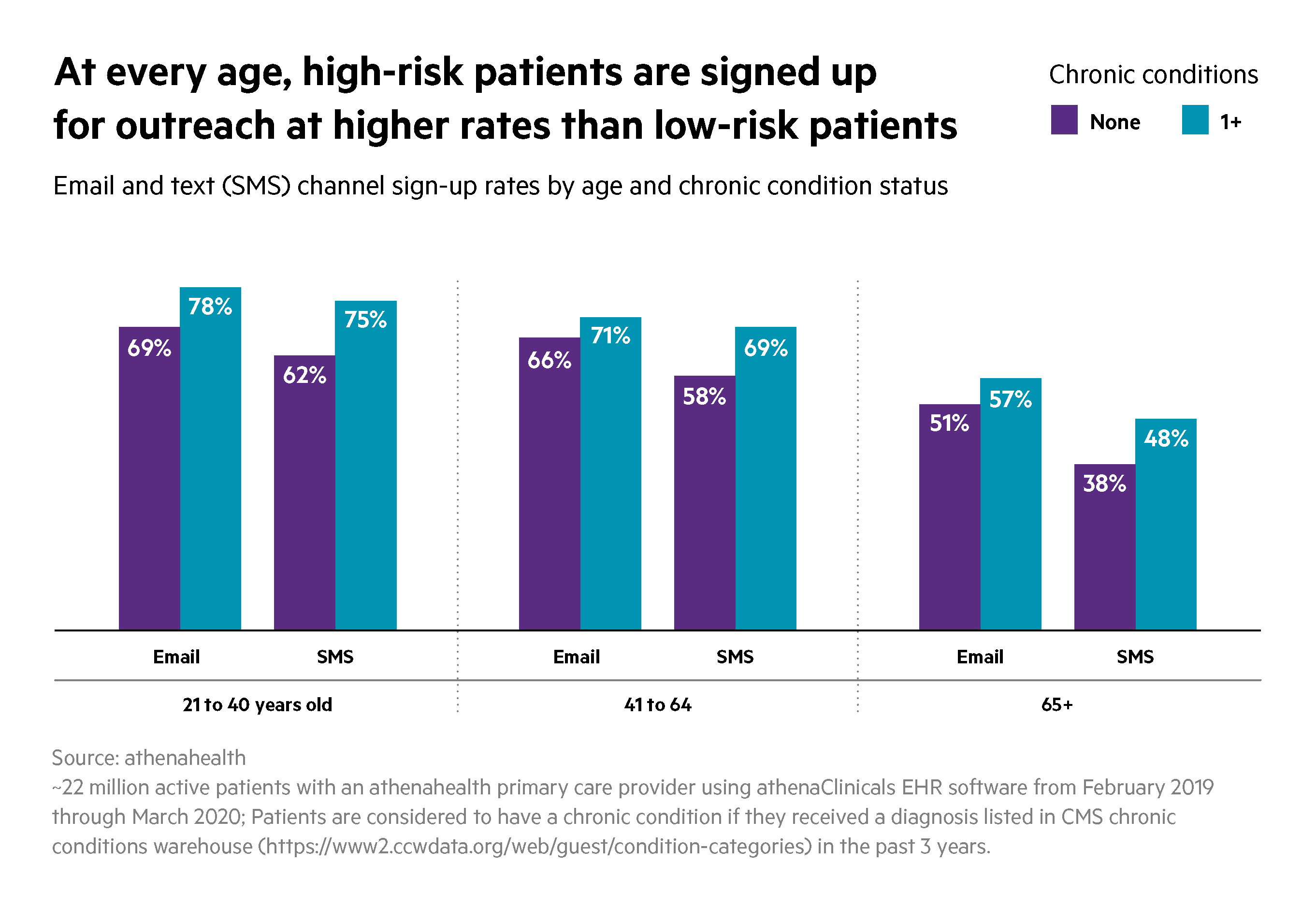 High risk patients aged 21-40 are 21 percent more likely to opt in to text messaging and 40 percent more likely to sign up for a portal account than those without any chronic conditions. The gaps are slightly smaller for patients between 41 and 64, at 19 and 30 percent respectively. But this is an encouraging sign for practices — and an opportunity. The data show that high-risk patients are open to outreach around their care.
Practices should take full advantage of these channels, as well as doubling down on encouraging patients to opt in to this kind of messaging – perhaps by changing default settings. After all, although high-risk patients opt into portal usage and text/email alerts at a higher rate, there are still around a quarter of high-risk patients who are not signed up, creating an opportunity for practices to raise the opt-in rate. These communication tools can be used to send customized messages to high-risk patients not just for appointment reminders, but for care plan check-ins, clinic dates, scheduling options, and more.
High risk patients still sought and received care during lockdown
The good news is that high-risk patients, regardless of age, continued to receive care at higher rates during lockdown when compared to lower-risk patients, in part because many were accessing care in new ways like telehealth.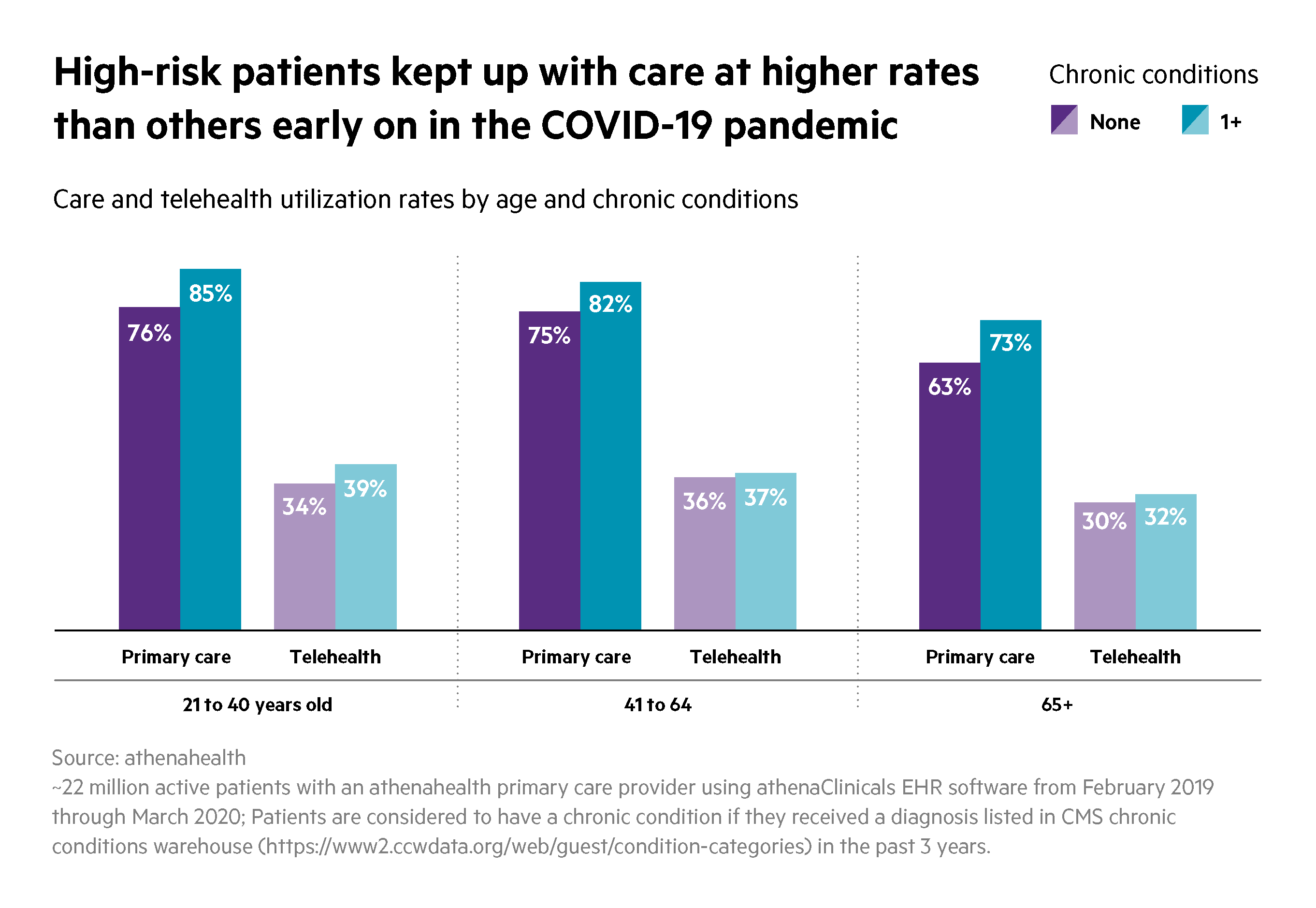 In fact, in the first 2.5 months that lockdowns began, more than three-quarters of the sickest patients still saw their providers, which is a rate roughly 10-15 percent higher than for low-risk patients. This suggests that patients and providers remain focused on ensuring access to necessary care.
Telehealth appointments were common across the board, but for high-risk patients in particular, they likely helped keep necessary visits happening. Among the youngest group, high-risk patients were 15% more likely to take advantage of telehealth than those without any chronic conditions.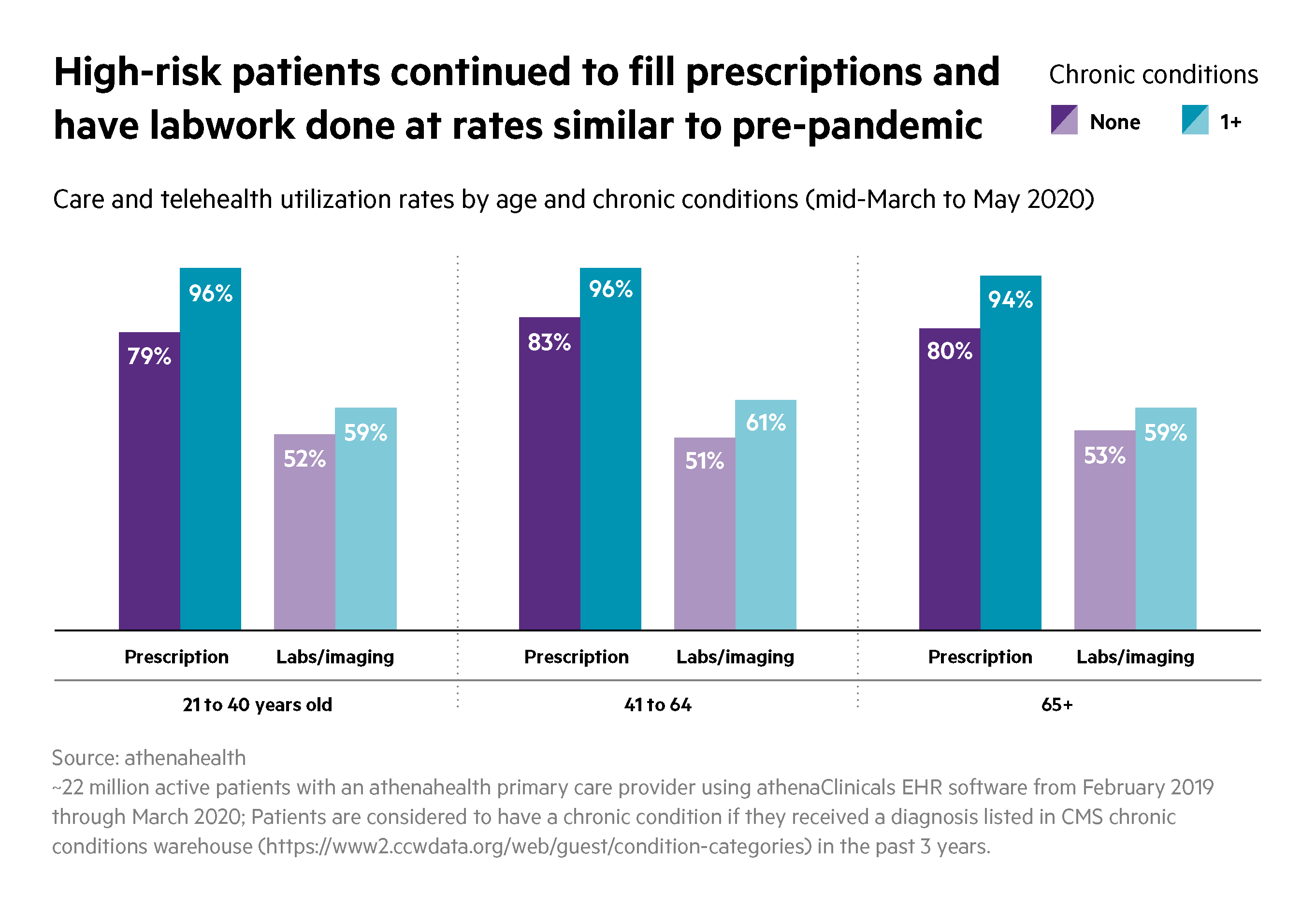 The same pattern was evident for prescription medication and lab tests. In fact, high-risk patients had medicines and tests prescribed for them at almost the same rate as before the lockdown.
Given how sick we are as a nation, it is imperative to better understand the characteristics and needs of the highest-risk, most-complex patients. "The data can help direct our focus," observes Sheridan, "but the next step in this research is to start teasing apart what provider outreach strategies actually work -- and the people who know that best are the patients and provider themselves."
But knowing them is just the first step. Technology can gather the information needed to assess patient risk and demographics. Providers and practices then need to use that information to deepen their relationships with patients and establish care models that support them in their daily lives.
Want to hear more?
Get insights from athenahealth's open and connected ecosystem delivered right to your inbox.
Sign Up