Article
Natural remedies and the fight to treat COVID-19
April 20, 2020

Consumer buying trends during the pandemic
The item vying with toilet paper for the #1 spot on Amazon.com's "Best Sellers List: Health & Household" category in March surprised me. It wasn't masks, gloves, or sanitizing wipes. It was sambucus elderberry gummies with vitamin C and zinc.
Elderberry has long been marketed as an immune-boosting supplement, and trials show that the herb may have some value in mitigating cold and flu symptoms. Are there any data suggesting that elderberry would do the same for COVID-19? No. Nor is there any evidence for the warning that elderberry used during COVID-19 symptoms could hypothetically unleash a dangerous hyperactive immune response — a cytokine storm — that many believe ups the devastation from COVID-19. The sprinkling of scientific terms in trending influencer media posts seems to confer a compelling aura of authority to these theories.
So why are consumers buying elderberry, zinc, or vitamin C? My sense is that it's an antidote to uncertainty and helplessness. There's something compelling and life-affirming about turning to nature for answers, in the form of plants and minerals from the earth. The act of researching and procuring a home remedy can feel empowering to those who long to do something meaningful and proactive, especially at a time when inactivity seems to magnify fear and anxiety. Some consumers rationalize that even if a store-bought remedy isn't effective, at least it won't hurt.
Ipsa scientia potentia est:
Knowledge itself is power
Patients don't always disclose their use of herbs and supplements to clinicians. When they do, there's often inadequate data available for clinicians to determine whether or not safety and efficacy standards are met. Foremost in a clinician's mind is safety, in light of each patient's medical history, including concerns about herb-drug interactions. And then there's the existential question about whether the patient's reliance on a remedy might confer a false sense of security — or cause the patient to delay seeking professional care. One thing that's clear about this pandemic is that rapidly progressive COVID-19 illness is possible, including during the second week of symptoms. Overreliance on unproven remedies could delay accessing necessary conventional medical care for COVID-19, however imperfect that is.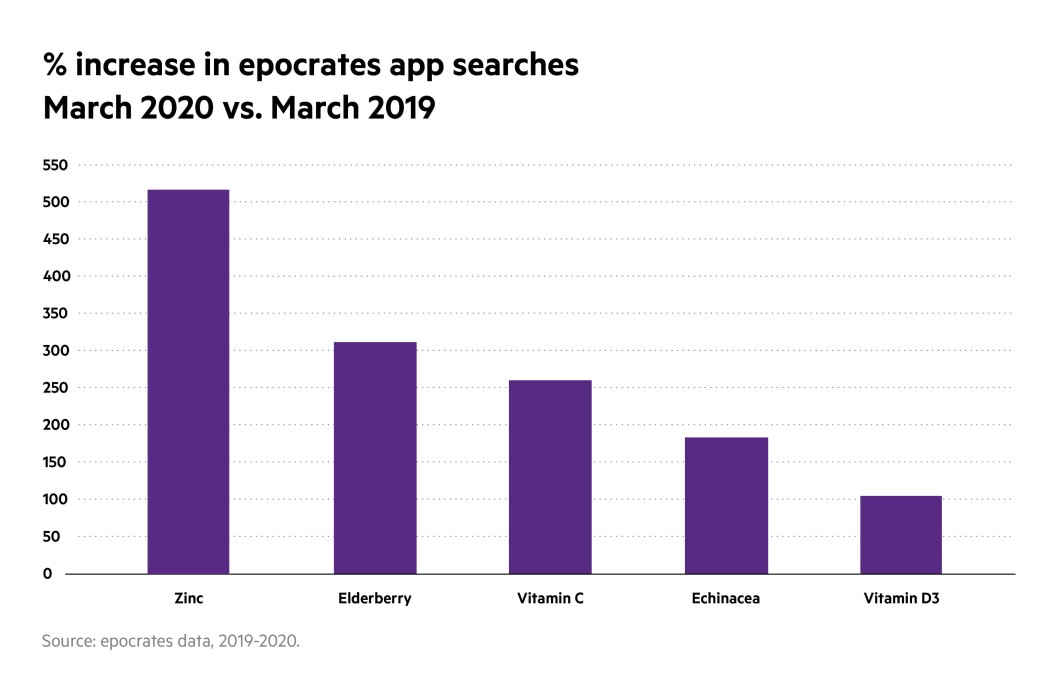 Clinician search look-ups for zinc increased 518% in the epocrates mobile app in March, compared with the same month in 2019, and searches for other popular remedies rose as well. In response, epocrates launched a free resource inside the mobile app: Herb & Supplement Remedy Use in COVID-19. This topic captures some of the theories trending in the media and presents reported data from human trials in infections other than COVID-19. One thing I learned from my training in integrative health is that if you are going to use an alternative remedy, strongly consider using the specific products, formulations, and dosing reported in human trials, when such data are available. This new resource is a complement to the epocrates COVID-19 Drug Therapy Trial Updates, currently trending as the most popular evidence summary in the mobile app.
My mother was a nurse who grew up on a Texas farm during the Great Depression, when doctor visits were a rarity. She passed on to her six children the home remedies of her day —sumac bark tea poultices, oatmeal baths, salt-water gargles, steam showers, eating lightly, sipping plain hot water, and letting mild fevers run their course. It's easy to understand the impulse to protect our loved ones with whatever is at hand. Every one of us has a public health role to play in this pandemic; our duty at epocrates is to keep up with the latest scientific evidence to support clinical decision-making, whether that's the latest trial on remdesivir, or elderberry with zinc and vitamin C.
-
Anne Meneghetti, M.D., is Executive Director of Medical Information for epocrates, an athenahealth service, and has a background in pulmonology and critical care medicine, as well as integrative medicine.
Want to hear more?
Get insights from athenahealth's open and connected ecosystem delivered right to your inbox.
Sign Up