Article
From value-based care to provider density, myriad factors may influence regional telehealth adoption
By Carley Thornell | March 12, 2021

Despite the lack of payment parity for telehealth visits in the Northeast and West going into the pandemic, those regions led the country in terms of adoption of virtual care once COVID-19 required most providers to transition to online care.
Whether it was their existing progress in terms of value-based care contracts, provider density, or in some cases what doctors in rural areas cite as access issues, athenahealth data show a marked difference in both the transition to and continued use of virtual care by primary care providers.
Beginning in 2020, athenahealth has been conducting research into the use and impact of telehealth. The research includes analysis of de-identified data from across athenahealth's network of customers as well as conversations with providers. This article is based on that research.
West overtakes the Northeast for virtual visit volume
States in the Northeast had the highest percentage of virtual appointments initially, but were overtaken by the West during the second wave of the pandemic in June and July 2020. The Midwest has been consistently the second-lowest telehealth adopter percentage-wise, and the South is consistently last. However, the Northeast is much more consistent than other regions, with high virtual rates throughout each state.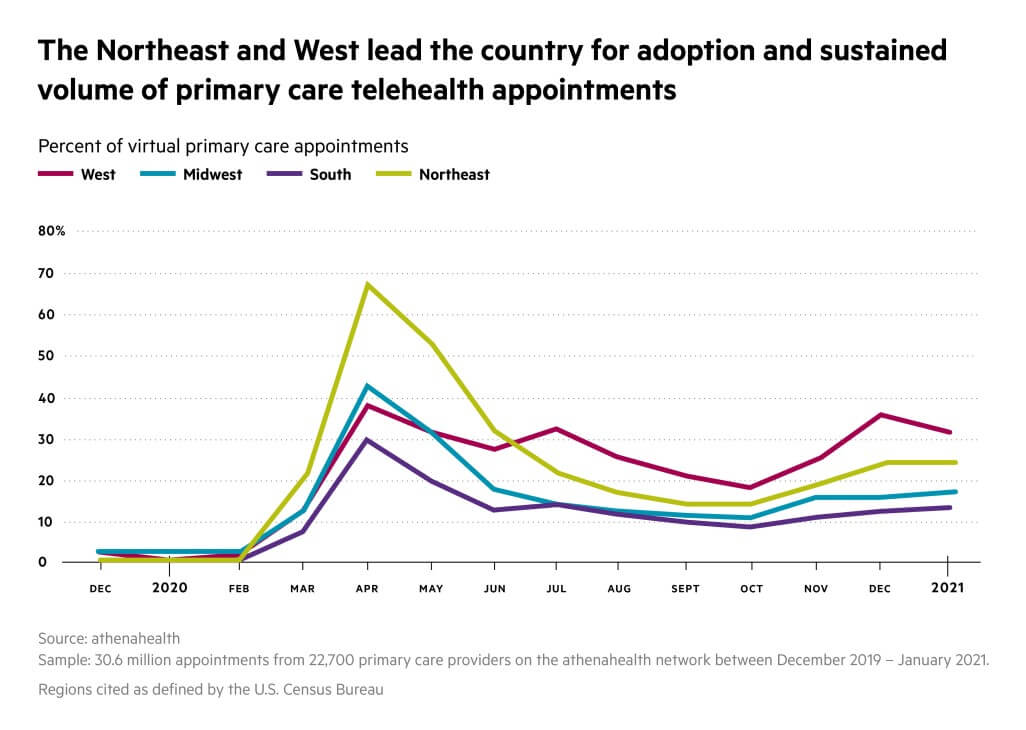 Highest adopters also embrace value-based care initiatives
New York, Pennsylvania, and Vermont – all within the Northeast – are leaders in terms of payment innovation and value-based care models. athenahealth physicians shared their thoughts on why telemedicine visits can improve outcomes and quality of healthcare delivery with more longitudinal versus traditional, episodic approaches; and also typically generate cost savings mainly by diverting patients away from more costly care settings like the emergency department, especially for patients with chronic conditions.
The Guide to Community Preventive Services, run by the U.S. government, recommends several telehealth interventions for reducing chronic disease conditions including high blood pressure, cardiovascular disease, diabetes, and obesity.
Although he was already exploring integrating telehealth into his care strategy prior to the onset of the pandemic, Maryland primary care physician Scott Maurer has ramped up efforts in the past year by learning how to monitor glucose for diabetes patients from their homes and perform remote blood pressure monitoring. "One of my quality markers for my accountable care organization is good blood pressure control," he said. "Part of telehealth is that remote monitoring. I used to think, sure, I do as good a job as anybody, right? And so, really, what turns out is when you see somebody every six months, you really can't do a good a job."
A competitive market for care
Excluding Hawaii, each state with the highest number of active physicians per 100,000 population was also in the Northeast according to the Association of American Medical Colleges' State Physician Workforce Data Report. Massachusetts topped the list (449.5 providers per 100,000 potential patients), while Mississippi – which is in the bottom quartile of telehealth users nationwide – has the least number of active physicians (191.3 per 100,000). In markets where there is more competition to attract and maintain patients, virtual care could be another tool in a doctor's bag, and explain the Northeast's leg up at the beginning of the pandemic.
Rural or urban, appointment commute times ease up
For practices like San Antonio-based Family Medical Home, adopting telehealth in the past year has opened up opportunities to see new patients, as they've been able to see patients as far as west Texas, says practice administrator Christian Zarnke. "Their options are to see a doctor online, and get medications mailed to them – or drive a couple of hours to get seen in person," he said. "As far as the rural, indigent communities that we have here in Texas, telehealth has certainly been very helpful." (Texas is among the upper quartile of telehealth appointments across primary care practices using athenahealth's services in the South.)
But even for more urban states, virtual care just may cut out hours of driving to the doctor, too. Eight of the top 10 worst U.S. cities for traffic are located in the North or West (the top telehealth users across the athenahealth network) according to the Global Traffic Scorecard from INRIX, a data analytics company. No matter what the locale, Zarnke foresees patient demand prompting practices to keep shorter appointments like medication checks and lab result reviews virtual. "We started getting more and more patients (back) in the clinic and there is a fair amount of pushback now, like 'Why should I drive?,'" he said. "Patients on their side are, for the most part, a little resistant to going back to the clinic just because of the ease of telemed."
Enhancing access or widening the divide?
The most urbanized, traffic-addled states also top the U.S. Census Bureau's American Community Survey of the highest per-capita income in the country. But that doesn't mean access is always easy – or universal.
At the Henry J. Austin Health Center (HJAHC) in New Jersey, the leadership team was able to transition three-quarters of visits to telehealth in order to protect staff from exposure to the novel coronavirus. However, many patients at the federally qualified healthcare center don't have access to the tools they need to conduct virtual visits, even in the state that's third on the income survey. HJAHC CEO Kemi Alli, M.D. and her staff have worked around the challenge by setting up a station at one health center location so patients without a laptop, phone, or internet access can still connect with a provider.
In Washington state, also in the top 10 on the income survey, some barriers aren't so much financially driven as technological for his practice, one oncology provider told athenahealth. Telehealth has "leveled" the playing field, he said. "But I don't think it's perfect, because of the communications infrastructure. We certainly have some patients who can't do telemedicine because they don't have a strong-enough connection. And they're having to go somewhere, or else just figure something else out."
Broadband – the chicken or the egg?
In a state-by-state survey of connectivity, speed, and broadband coverage, BroadbandNow ranks New Jersey first, and Washington state is in the top 15. Across the athenahealth network, higher telehealth adoption prior to the pandemic and usage throughout correlates with the states with the top rankings. The lowest-ranked states for broadband coverage and speed – Wyoming, Montana, and Mississippi among them – have some of the lowest telehealth use rates across the athenahealth network. Montana and Mississippi are also among the poorest per-capita in the U.S.
However, in their findings published in January 2021, BroadbandNow details a noteworthy expansion of cost-effective broadband internet access to 70 percent of Americans. (Affordable services are defined as $60 or less monthly.)
"The increase – from 52 percent a year ago – is a positive sign in the ongoing efforts to close the digital divide in the U.S.," writes editor-in-chief Tyler Cooper.
With ongoing enhancements in technological functionality and affordability – and demand from patients like Zarnke's – it's clear that telehealth is here to stay in a long-term capacity.
Want to hear more?
Get insights from athenahealth's open and connected ecosystem delivered right to your inbox.
Sign Up