Article
Mental health research finds that age and diagnosis are among factors influencing pandemic-era visits
By Chris Hayhurst | May 10, 2022

Even before the pandemic, Dr. Jeff Drasnin was concerned about the state of mental health in America. Like many pediatricians, he could hardly believe the number of patients he was seeing with clear symptoms of stress and anxiety. His practice in Milford, Ohio, ESD Pediatric Group, had hired a full-time psychologist at the end of 2019 to help meet the rising demand. Drasnin says his practice was fortunate to have brought on that additional clinician prior to COVID-19. Reflecting on both pediatric and adult mental health needs, he says "the problems we had before are still there, it's just now they're being exacerbated."
Drasnin is not alone in his assertions, athenahealth research finds. An analysis of network data performed by the Research & Insights team found a spike in mental health visits in the first year of the pandemic, as well as notable differences between age groups. The analysis, conducted earlier this year, used data from de-identified patients who'd seen a mental health clinician at least once during the period between January 2019 and February 2022. Those professionals – including therapists, psychologists, psychiatrists, counselors, and social workers — were all part of the athenahealth network.
Researchers first tracked the average number of visits per patient per month, and the average number of prescriptions written during these visits; then they stratified the results by patient age, and by specific health conditions.
The final component was a separate, athenahealth-commissioned survey of U.S. patients conducted online in March 2022. With questions focused on everything from whether the pandemic caused them to seek out mental health care for the first time, to whether they felt judgment from others when discussing their mental health, the survey "was designed to shed light on patients' real experiences during the pandemic, and bring more meaning to our data-based findings," said Dani Bradley, senior manager of athenahealth's Research & Insights team.
Visits are up across the board
The first finding to emerge from athenahealth network data was a spike in mental health visits in year one of the pandemic. The number of visits per patient increased, as did the number of patients who saw a mental health provider for the first time. Compared to July 2019, the percentage of visits attributed to new patients increased by 27 percent just one year later in July 2020. Visits then decreased gradually throughout 2021—perhaps as people began to return to work (and presumably had less time to go to appointments).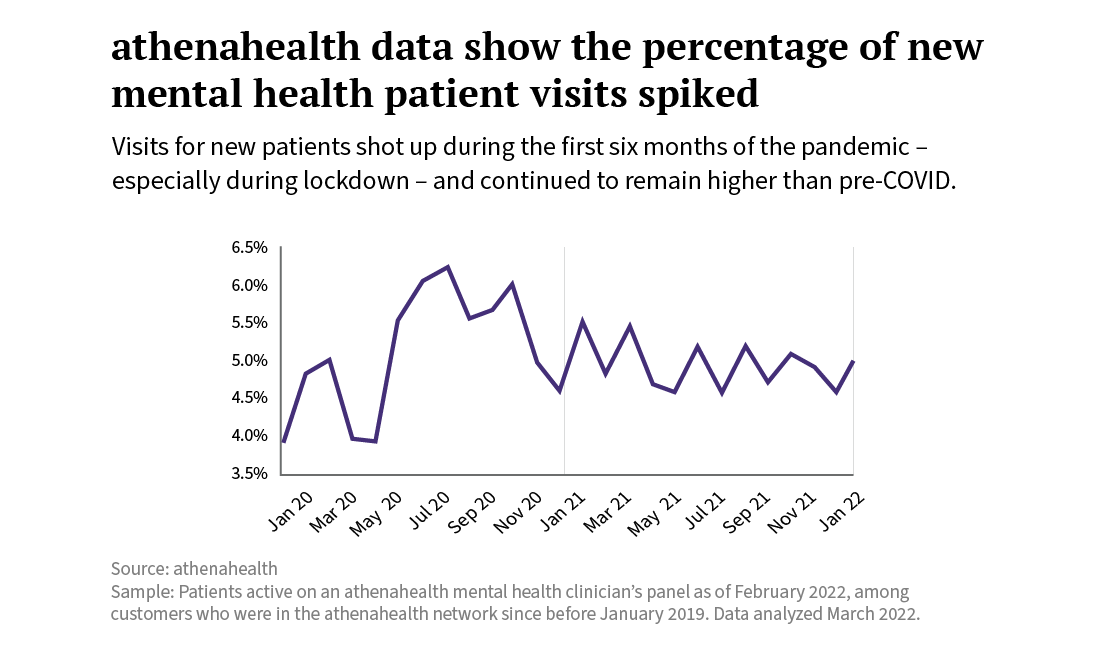 These numbers were supported by the survey, which found, for example, that 21 percent of patients said they saw a mental health professional for the first time during the pandemic. An additional 17 percent re-engaged with past mental health treatment.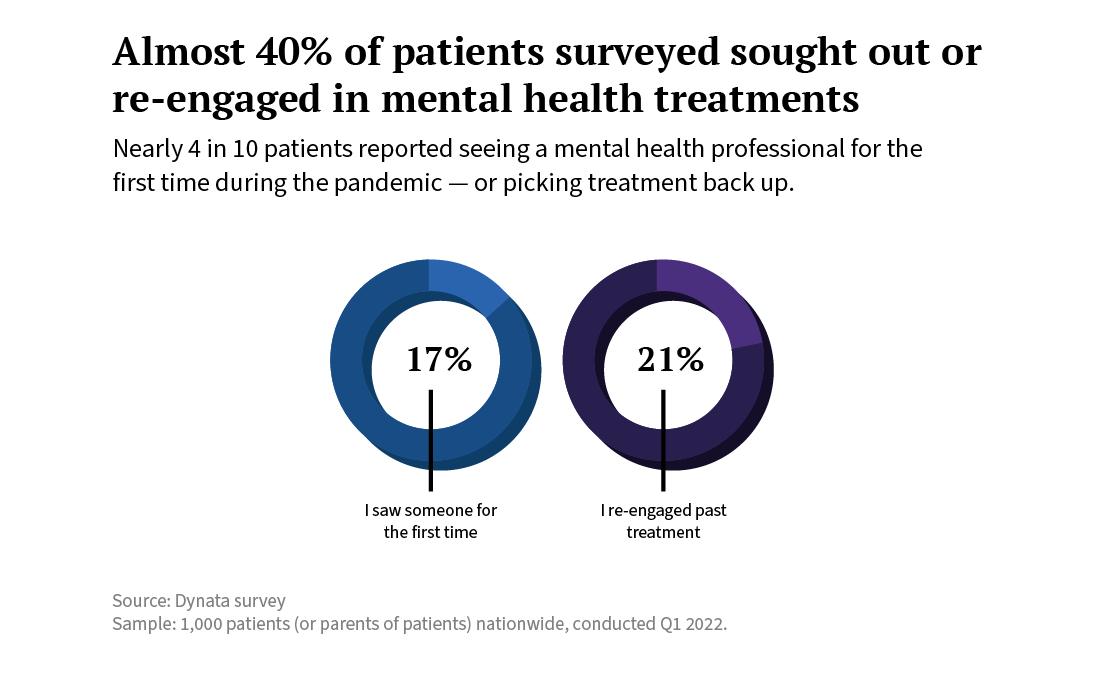 Age was another significant factor in patient behavior. Generation Alpha — patients born between 2013 and present day — saw mental health providers at consistently higher frequencies than patients from other generations throughout the three-year study window, researchers report. Not surprisingly, given the hesitancy to medicate younger mental health patients, Gen Alpha had the lowest prescription rate during that time. The highest rate of prescribing per patient was among the older generations—the Baby Boomer and Gen X cohorts. Those are patients born between 1946 and 1964, and 1965 and 1980, respectively.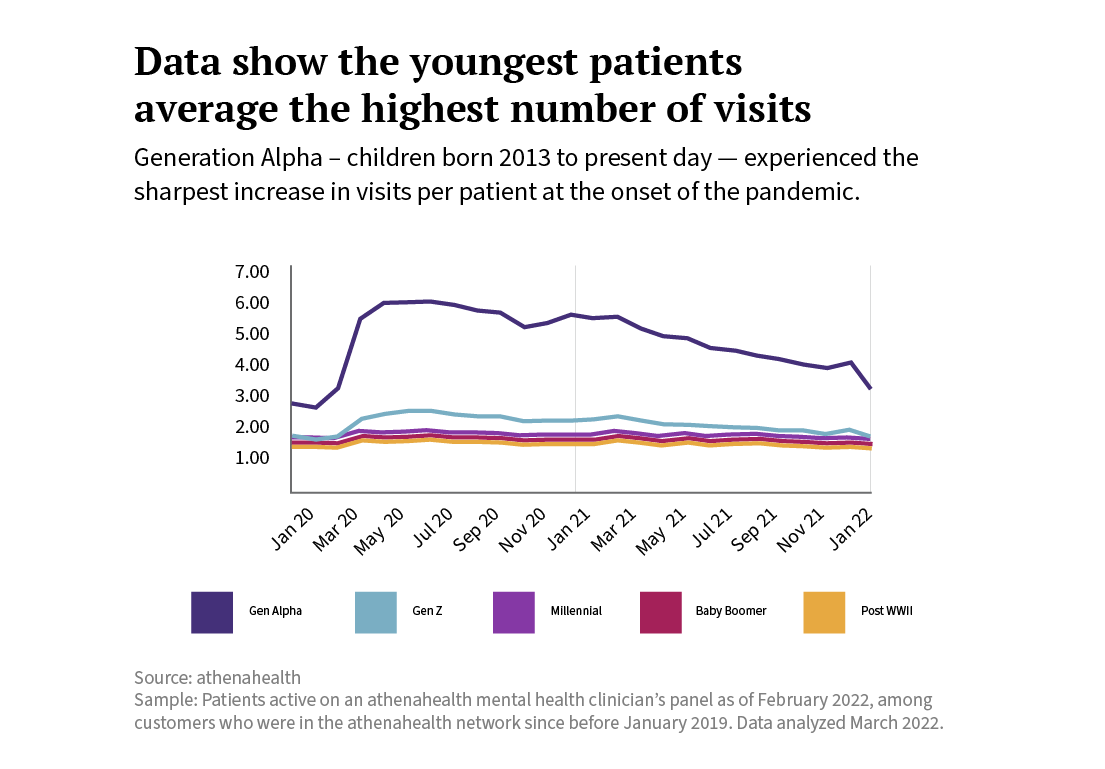 The patient survey revealed what parents thought were the primary causes for their children's struggles: 14 percent of respondents, for example, said at-home or virtual education was to blame, while 15 percent said their child experienced setbacks because they couldn't spend time with friends. Among survey respondents with children, 39 percent said the pandemic impacted their child's mental health including new and worsening conditions.
Visits for depression, anxiety, ADHD follow the same patterns
When it came to visits for specific mental health conditions, the data were also clear: While patient consults for ADHD, anxiety, and depression all jumped at the start of the pandemic, after that, they declined gradually over the next year before spiking again in April 2021.
"We don't have any good way to know for sure why visits increased a second time just one year after the start of the pandemic," said Bradley. "But it could be any combination of the one-year anniversary of the pandemic start, access to and concerns about vaccines, or reintegrating into 'back to normal' schedules like in-person work and school."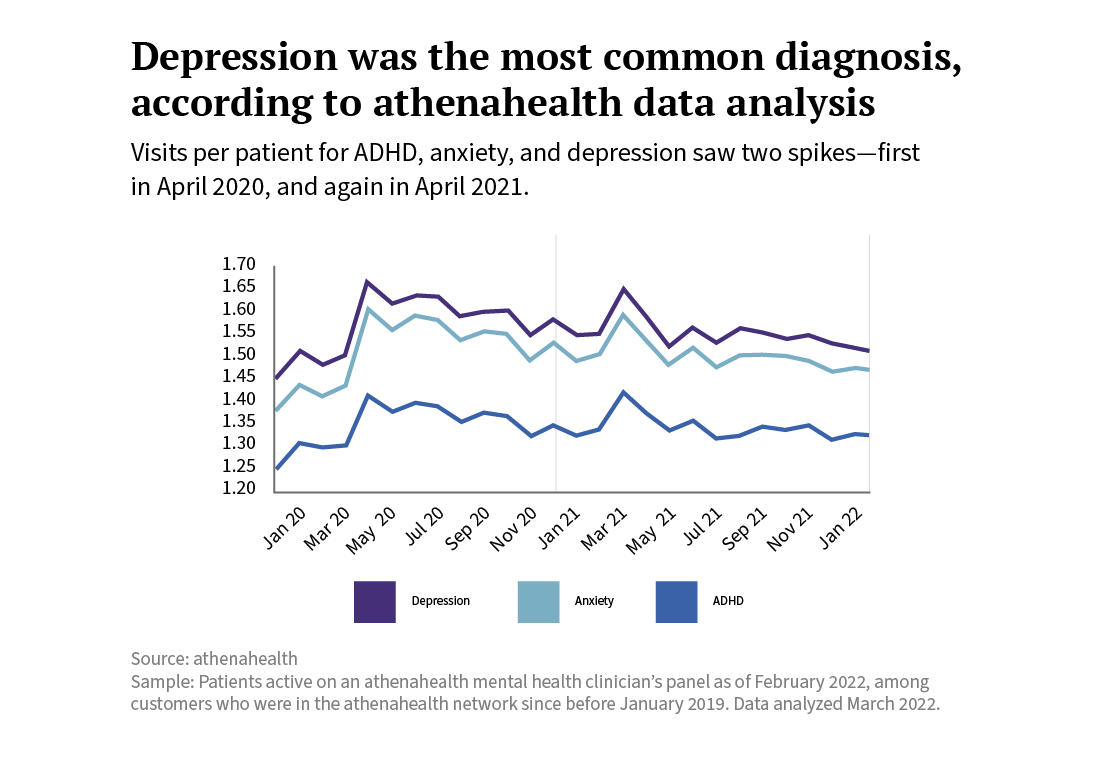 Patients share what would help them meet their needs
As far as the lessons providers might glean from the pandemic, Bradley points to the responses to two survey questions.
More than 40 percent of respondents indicated that although they didn't currently see a mental health professional, they had interest in doing so.
"The fact that so many people want to see a provider but currently aren't, is huge," Bradley notes. She believes one factor holding patients back could be related to the lack of providers and long wait times for appointments. "We're experiencing a massive mental health provider shortage in this country, and for those who do find a provider who is in-network and taking new patients, the wait times can be months long. "
By one recent estimate, nearly 40 percent of American adults struggled with mental health issues in 2020, up from 10 percent in 2019. And yet forecast estimate that by 2025, the U.S. mental health field will be 7,500 providers short of what it is needed to adequately serve patients.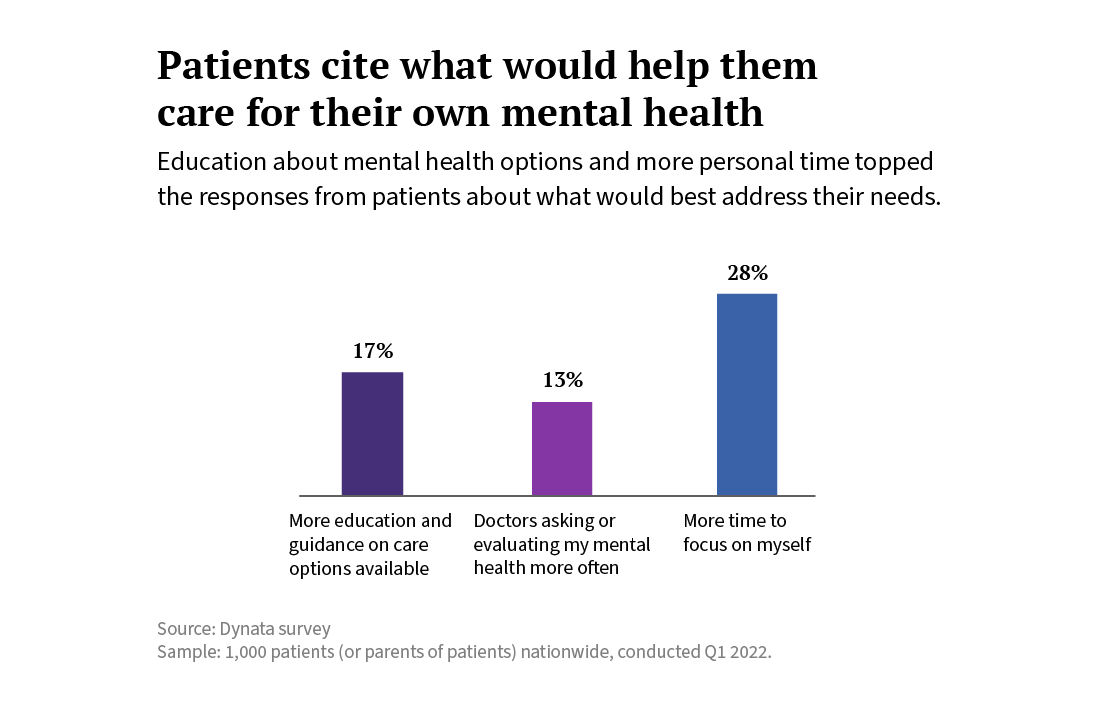 The other question Bradley highlighted surrounded respondents' insights on what they thought would improve their ability to care for their mental health. Bradley noted that nearly a third of respondents said they could "use more time to focus on themselves"; and smaller but significant numbers indicated that "more education or guidance on mental health care options available to me" and "doctors asking about or evaluating my mental health more often" would likely help them the most.
The research manager likens the situation to putting on an oxygen mask on an airplane. "While we all feel compelled to take care of those around us first, ignoring our own needs makes it difficult to show up in a meaningful way for those around us," Bradley said. "Caring for ourselves needs to be a priority, and that was really hard to pay attention to during the pandemic when many people were stretched over capacity."
Clinicians in all specialties would do well to keep that in mind the next time they care for a patient who isn't already engaging in healthy mental health behaviors or treatment, Bradley says. "Everyone can benefit from paying more attention to their mental wellness. Asking the question is often the first step towards accessing the care they need."
Want to hear more?
Get insights from athenahealth's open and connected ecosystem delivered right to your inbox.
Sign Up