Article
Data show inequalities in mental health diagnoses
By Chris Hayhurst | May 24, 2021

The chance that a patient in primary care will be diagnosed with anxiety or depression may depend on their demographic group as much as it does on their state of mental health.
That's the key finding of a new athenahealth analysis of patient visits to primary care providers (PCPs) in 2020. The athenahealth Research and Insights team looked at de-identified data from a cohort of more than 24 million patients tracked over an 8-month study window between May and December of last year. The research considered visits to PCPs on the athenahealth network, and did not include data from mental health professionals like social workers and psychiatrists.
The research was inspired by a CDC report on a survey conducted in June 2020 showing symptoms of anxiety and depression among U.S. adults had "increased considerably" during the pandemic. That report revealed how these and other mental health conditions were disproportionally affecting certain populations, including younger adults and Hispanics. Overall, it found, about 26 percent of respondents said they'd experienced symptoms of anxiety in the months since the pandemic began, while 24 percent said the same about symptoms of depression.
For the athenahealth analysis, patients were considered to have been diagnosed with anxiety or depression if they had at least one claim from a visit with a PCP that included a relevant diagnosis code as defined by the Centers for Medicare and Medicaid Services (CMS). The researchers used this data to determine diagnosis rates for each condition among groups of patients based on gender, age, race/ethnicity, and the number of chronic conditions they had.
While the researchers learned that anxiety and depression alike were "strikingly common" across the entire study population, they also found the conditions were diagnosed at significantly different rates in different demographic categories.
Diagnoses varied by gender, age, race, and overall health
According to the research, women were twice as likely as men to receive a diagnosis of anxiety from their primary care provider (6.5% vs. 3.3%), and were diagnosed with depression at twice the rate as well (4.2% vs. 2.1%). And while patients age 30 and younger across the board were less likely to be diagnosed with either condition, among older patients the biggest outlier was the 81-and-over age group. Individuals in that cohort, the researchers found, were far less likely to be diagnosed with anxiety (5.3%) or depression (4.9%) than those in the 71-80 or 61-70 patient age groups.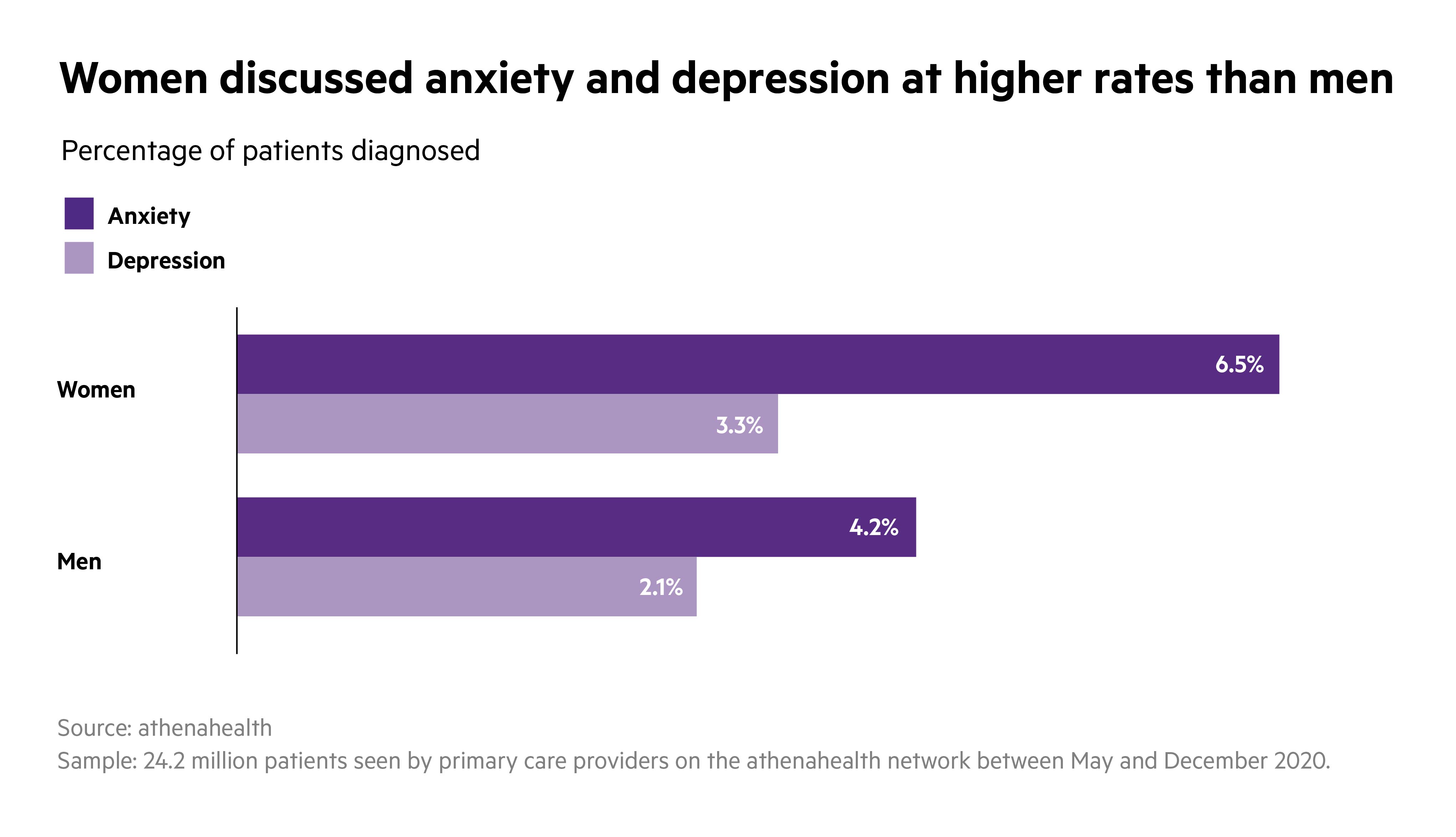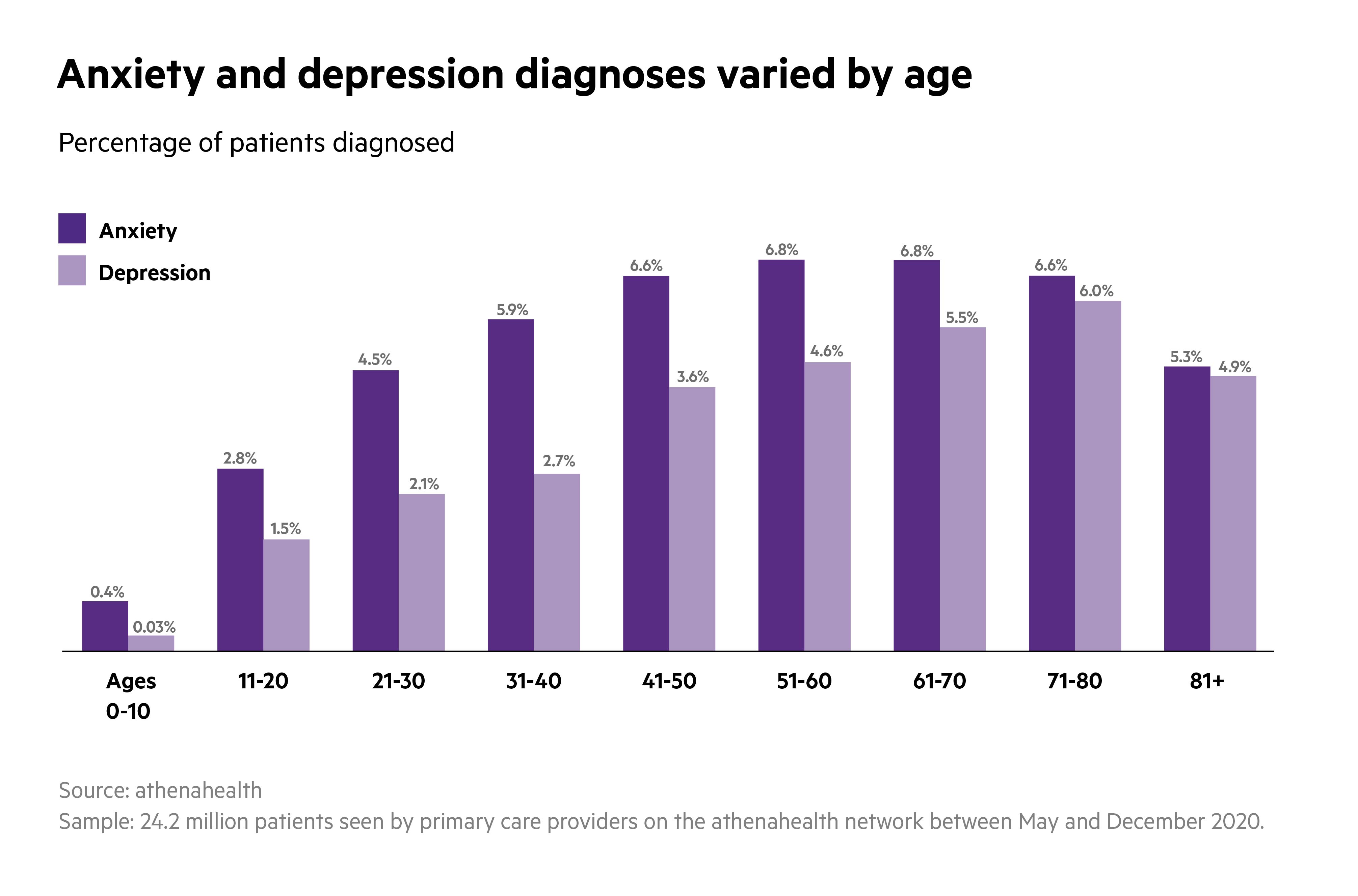 It was a similar story for patients of color compared to patients who identified as white, and for patients with multiple comorbidities compared to those without any chronic conditions. White patients, for instance, were significantly more likely to be diagnosed with either condition than Black, Hispanic/Latino, and especially Asian patients. White patients received anxiety and depression diagnoses at rates of 7.2 percent and 4.7 percent respectively, while Asian patients were only diagnosed at rates of 2.2 percent (anxiety) and 1.5 percent (depression).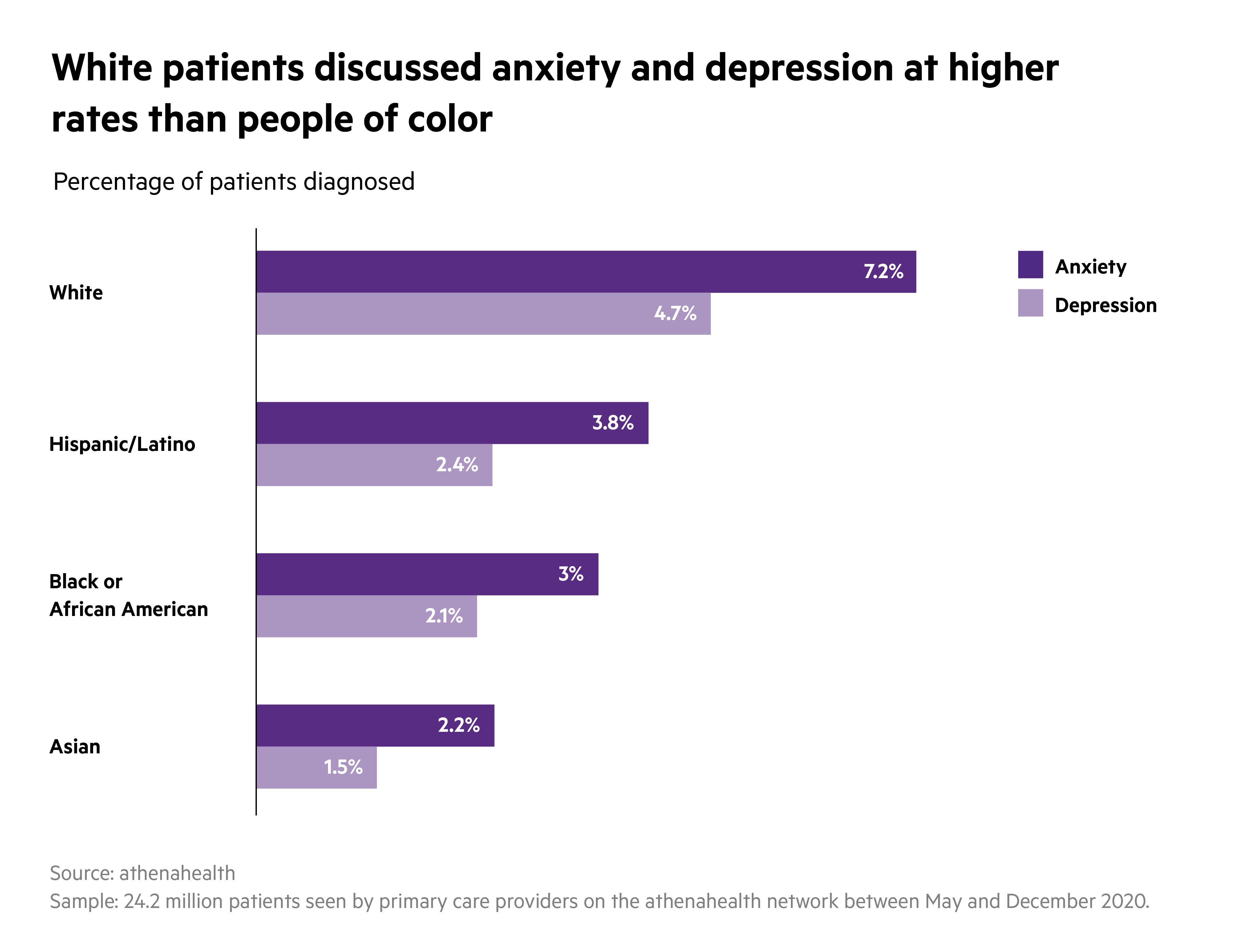 When it came to patients with comorbidities, the more chronic health conditions a person had, the more likely they were to be diagnosed with either anxiety or depression. Patients with no chronic conditions, for example, received anxiety or depression diagnoses at rates of just 1.6 percent and 0.7 percent respectively, while patients with four or more comorbidities (defined in CDC list of conditions associated with poor COVID-19 outcomes) were diagnosed at rates of 9.7 percent (anxiety) and 7.6 percent (depression).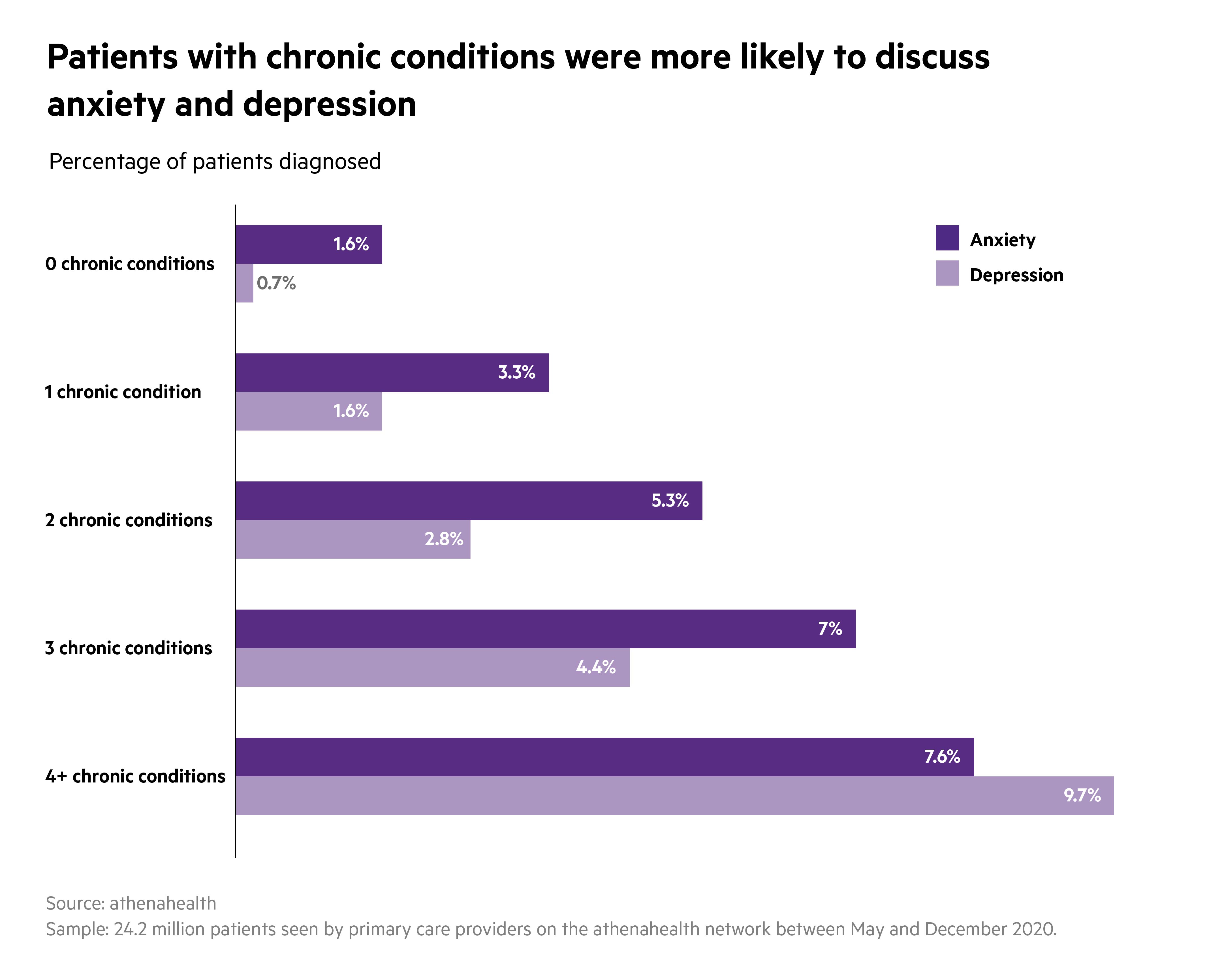 Limitations and looking ahead
The data, notes Janvi Nerurkar, Quantitative Research Manager on the athenahealth Research and Insights team, do come with some limitations. It's possible, for example, that demographic groups that appear to have lower diagnosis rates in primary care are disproportionately seeking services from mental health professionals, or from providers who aren't part of the athenahealth network. "And we're only capturing patients who actually discussed their mental health with their PCPs. So it could be our findings are understating the true impact of anxiety and depression on the population as a whole."
Along similar lines, Nerurkar says, the data can't explain why these trends are taking place. That mental health discussion between an Asian patient and their PCP may be less likely to happen because of cultural stigma around seeking help for such conditions, for example. Provider biases could also play a role, as could financial factors or differences in patients' mental health states.
An Asian American woman herself, Nerurkar describes the findings as "interesting but disturbing," and a sign that more research on diagnosis discrepancies is needed. "I think I was expecting to see differences in these demographic groups, but I never thought they'd be to this magnitude," she says. "It kind of hits home for me. It makes me wonder what else we could be doing to destigmatize mental health conditions."
Want to hear more?
Get insights from athenahealth's open and connected ecosystem delivered right to your inbox.
Sign Up