Why are healthcare costs growing? It could be your appendectomy
By David Levine | June 20, 2016
There's a cost crisis in healthcare that no one is talking about, according to the Journal of the American Medical Association. Emergency general surgery is costing the system more — in admissions, complications, deaths, and inpatient expenses — than the treatment of new cancer diagnoses, diabetes, and heart attacks.
The aftereffects of emergency surgery represent a "looming catastrophe" for public health, notes Martin G. Paul MD, an assistant professor of surgery at Johns Hopkins Medicine, in a JAMA commentary.
And the related costs will pose a growing challenge to healthcare systems as more payers move toward risk-based reimbursement.
To put a price tag on the problem, researchers from Brigham & Women's Hospital in Boston used data from 421,476 patient emergency general surgeries culled from the 2008 to 2011 Hospital Cost and Utilization Project's National Inpatient Sample.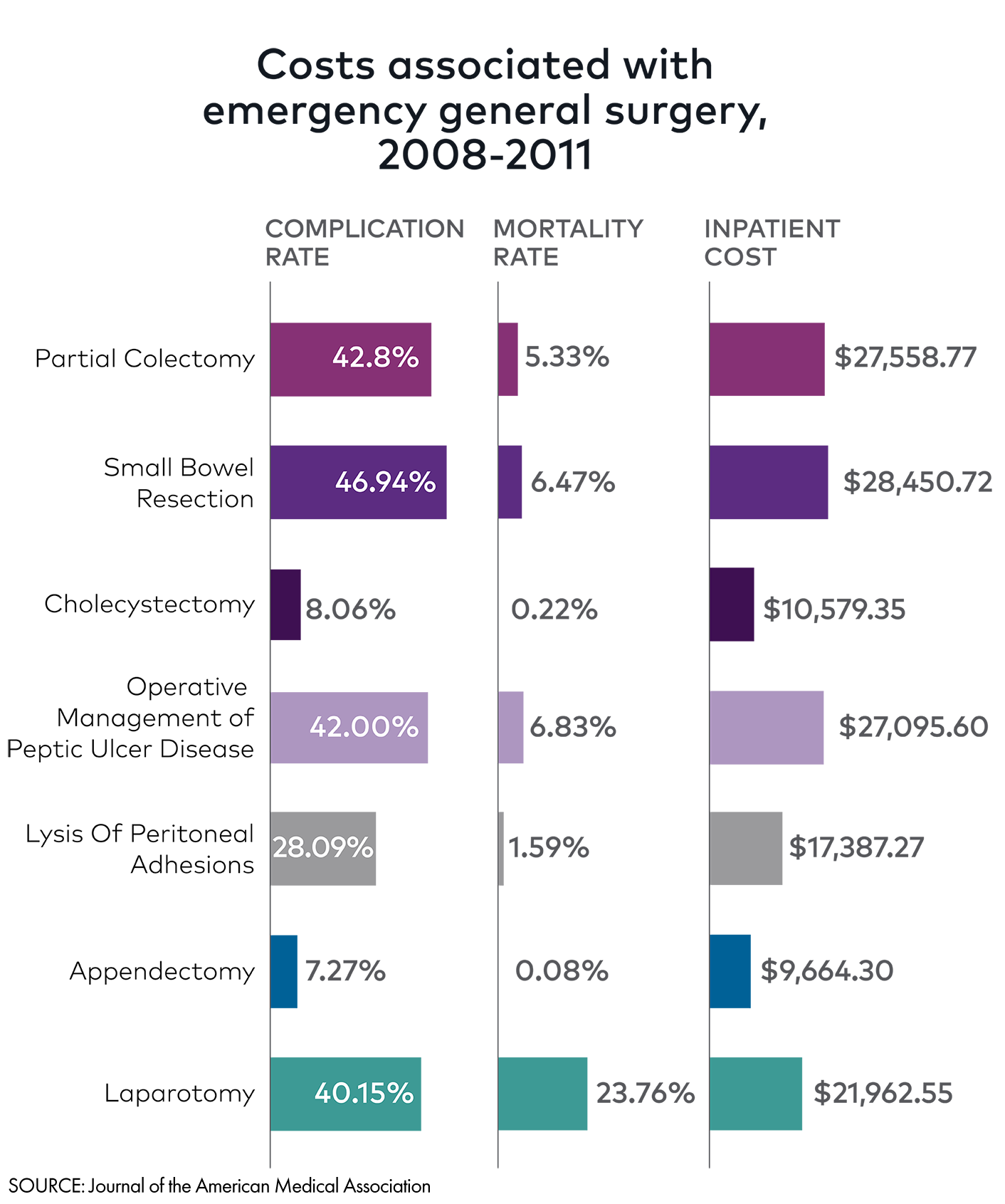 Emergencies were defined as surgeries performed within two days of a patient's admission to the hospital, or due to a diagnosis consistent with the American Association for the Surgery of Trauma's definition of emergency general surgery. The seven procedures that resulted in the most problems were: partial colectomy, small bowel resection, cholecystectomy, operative management of peptic ulcer disease, lysis of peritoneal adhesions, appendectomy, and laparotomy.
Complications included pneumonia, deep vein thrombosis and/or pulmonary embolism, acute renal injury, stroke, myocardial infarction, cardiac arrest, acute respiratory distress syndrome, sepsis, septic shock, mechanical wound failure, wound infection, postoperative gastrointestinal tract complications, and others.
Granted, this is a particularly high-risk population of surgery patients, the study notes. But follow-up treatment could cost more than $40 billion annually by 2060, Paul wrote — hardly the desired outcome for a health system seeking to increase quality and decrease costs.
Still, the study has one silver lining. By identifying which surgeries lead to both fewer quality outcomes and higher costs, Paul wrote, hospitals can start measuring and improving their results — and, hopefully, reduce complications in the future.
David Levine is a writer based in Albany, New York.